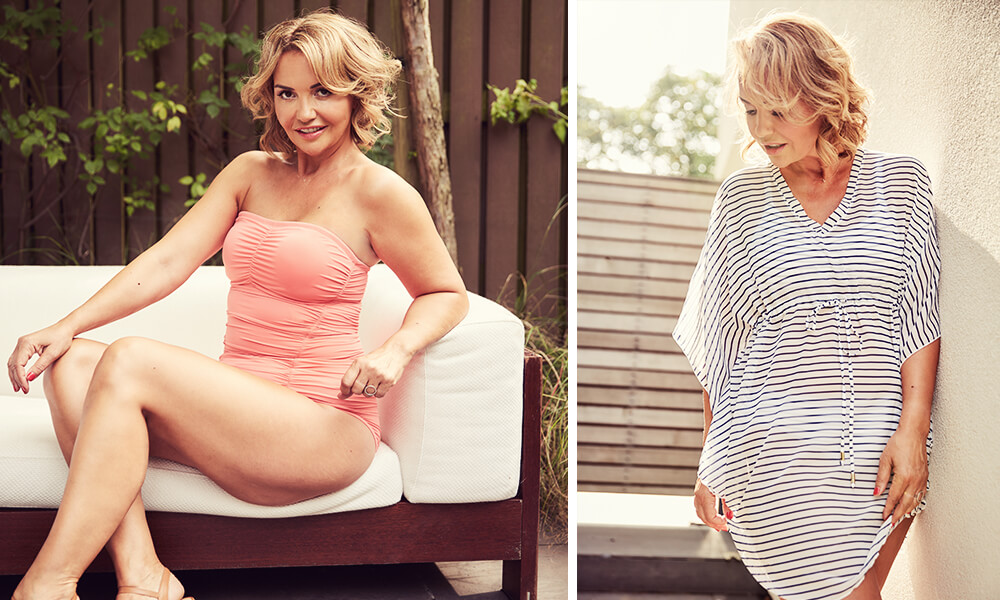 This stunning post-breast surgery collection incorporates all the glamour of Melissa Odabash's regular collection with Amoena's specialist pocketed design features, providing you with confidence and comfort, whether you've had a full or partial mastectomy, lumpectomy or reconstructive surgery.
This is the third collection from Amoena and Melissa Odabash in support of
Future Dreams
– a London-based breast cancer charity that was set up in 2008 by mother and daughter Sylvie Henry and Danielle Leslie. By a cruel twist of fate they were both diagnosed with breast cancer – Danielle was just 35 and a mother of three young children. Their dream was to make sure that nobody should ever have to face this illness on their own. Amoena's UK country manager, David Fisher, shares his thoughts on the collaboration with Melissa Odabash and Future Dreams: "Swimwear needs to have a wow factor, as well as being easy to wear. For a woman who has had breast cancer surgery, that means extra design elements to ensure support and comfort – particularly if she wears a breast form. This collection ticks all the boxes, as well as embracing Melissa's design chutzpah and effortless glamour."
Odabash was inspired to create this collection by her sister, Jamie, who was only 38 when she was diagnosed with breast cancer. Jamie was unable to find sexy, supportive swimwear that would give her the confidence to go to the beach after her mastectomy, so Melissa Odabash decided to design swimwear for ladies that had a surgery due to breast cancer.
"Future Dreams has raised millions of pounds in support of breast cancer causes, one of which is creating a new home for the London Breast Cancer Haven, which provides free support and therapies to women affected by breast cancer. Nurturing women's confidence is central to their philosophy, so we believe there's a perfect fit, and we're delighted to help raise funds for their continuing work.", David Fisher from Amoena.
The 'face' of this year's collection is London psychiatrist and style influencer Vera Ora, mother of pop star Rita Ora. Vera was diagnosed with breast cancer aged just 39, shortly after she had moved to the UK from Kosovo with her husband and young children. After being diagnosed Vera had a mastectomy followed by radiotherapy, chemotherapy and then opting to have breast reconstruction. Speaking about the range, Vera says: "It is wonderful to have a choice of post-surgery swimwear designed by the world's most famous swimwear designer and with 30% of the proceeds going to a
breast cancer charity
. I loved the way the swimwear made me feel."
This year, the Nicola Jane buying team have selected 3 of the lovely Melissa Odabash by Amoena styles. The flattering Jacqui Ruched Swimsuit (71308), the gorgeous Kim striped Bikini (71300) and its matching Sylvie Kaftan (71311).
Jacqui Ruched Swimsuit (71308)


Be on-trend in this stylish coral colour swimsuit. Designed by Melissa Odabash for Amoena, this one piece bandeau pocketed swimsuit features a soft silicone elastic band around the top for secure support, plus removable straps, giving you the option to wear it as a strapless bandeau or halter neck. Ultra soft & light fabric, ruched on the front and side panels is
designed to flatter your figure.

Kim Stripe Bikini (71300)

Set off on your next adventure with the nautical style of the Kim bikini. The blue and white striped two-piece is timeless, supportive and comfortable. The ruche detailing enhances your feminine side. Fully pocketed to hold your breast form securely. The matching briefs also feature a side ruche detail.
Sylvie Kaftan (71311)


Combine the Sylvie Nautical Kaftan with the matching Kim bikini to create the perfect sophisticated beach look. Designed by the renowned swimwear designer, Melissa Odabash, this kaftan is a light, comfortable tunic that features a drawstring at the waist to flatter all figures.