We are collecting donations of post-surgery bras, breast forms, swimwear and wigs. A lot of our customers are not sure what to do with their bras or prostheses when they no longer wear or require them, so for that reason, we are accepting donations and send to either The Hospices of Hope or The Bricon Foundation.
The Hospices of Hope
is a charity is aiming to help cancer patients in South East Europe, where the health care services are not as developed as in the UK or other areas of Europe. The donations are distributed in Romania, Serbia, the Republic of Moldova and Albania. The patients that receive these are ladies that would not have access to mastectomy bras, swimwear or prostheses without the help of this charity.
Founded by a breast cancer survivor, t
he Bricon Foundation
is aiming to help restore self-confidence in breast cancer patients in Nigeria, Africa. They provide counselling, assist in funding the treatment and help improve the care that the patients receive. The ladies that the Bricon Foundation takes care of often cannot afford special mastectomy bras or good quality prostheses and have to rely on donations.
How does it work?
Just send the items that you want to donate to our main office (address below), or take them to our shop in Chichester:
Nicola Jane
Southern Gate
Terminus Road
Chichester
PO19 8SE
And we will then send them to the charities we work with.
If you are going to send donations or have done in the past: THANK YOU!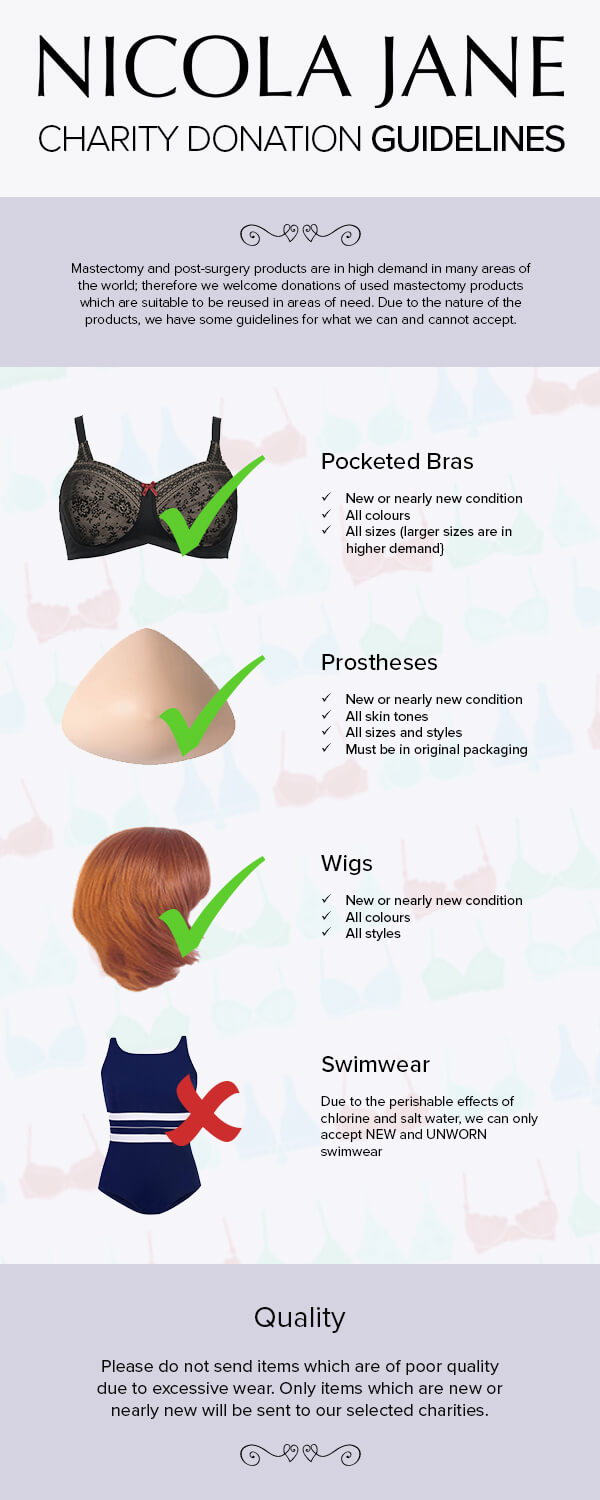 Events
At Nicola Jane, we also regularly take part in charity events to raise money and give back even more. The Nicola Jane team have participated in all sorts of charity events, including the
Moonwalk
,
the Great South Run
, various Fashion Shows, including London Fashion Week,
Breast Cancer Haven's
famous Tea Cozy event and their Power Hour.