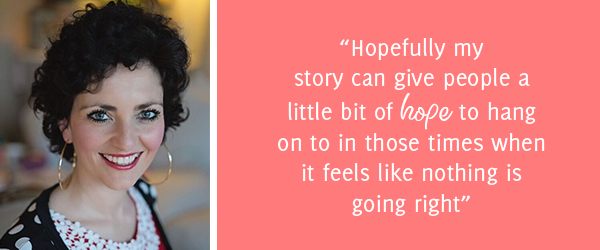 Aged 35, Sarah was given the all-clear in 2015 after battling with Triple Negative Breast Cancer for more than a year. She has since seen her debut book reach best-seller status and now has a miracle baby. Sarah, her husband Dave and her seven-year-old daughter Lillie, were all desperate for a new addition to their family but were told by doctors that Sarah would never conceive again after her treatment…
Read Sarah's story here and see why we think she is an #inspirationalwoman!
It's the perfect way to end what has been a not so great situation...

My book
The Shock Factor: Sarah's story - beating breast cancer one day at a time
was published on December 14th and within hours had reached the number one best-seller on Amazon in the breast cancer category. The book chronicles my journey through my breast cancer diagnosis, taking the reader through the highs and lows of the life we go through as a cancer patient. When writing the book my main aim was for it to be a self-help book, giving tips and advice on diet, exercise, health and beauty to breast cancer sufferers and their families, through the experiences that I had gone through first-hand. I did most of my writing whilst going through my own treatment as I wanted to create a book that contained as much useful information that wasn't available to me at the time of diagnosis. I wanted to ensure that women had access to everything they needed to know, to help relieve stress and anxiety and to save them from having to do the research for themselves.
Since the publish date I have been overwhelmed with the response from those who have read the book. It has received nothing but five-star reviews on Amazon with one reviewer writing: 'amazing lady and a true inspiration'. I'm just totally relieved because I have worked so hard on it over the past two years. There were times when I didn't want to write, especially when going through treatment but I thought I have got to write it in these times because it's got to have all the emotion in it. I set myself the goal to write the book and if it just helps one woman I have achieved what I set out to achieve.
My miracle pregnancy...
When I first found out that I was pregnant I was shocked, I just couldn't believe what I was hearing, I was so happy. At the same time I was a little concerned because I was told I had a shadow on my spine, there is a high risk of returning breast cancer in the first two to three years and they don't recommend getting pregnant because the cancer can feed off the hormones. I had lots of tests on my organs during my pregnancy, but thankfully doctors confirmed that everything was ok.
I am pleased to say that in June I gave birth to our 'miracle' baby boy Monty David Pickles, weighing a healthy 8lb/10. I hope that my story can give people a little bit of hope to hang onto in those times when it feels like nothing is going right.