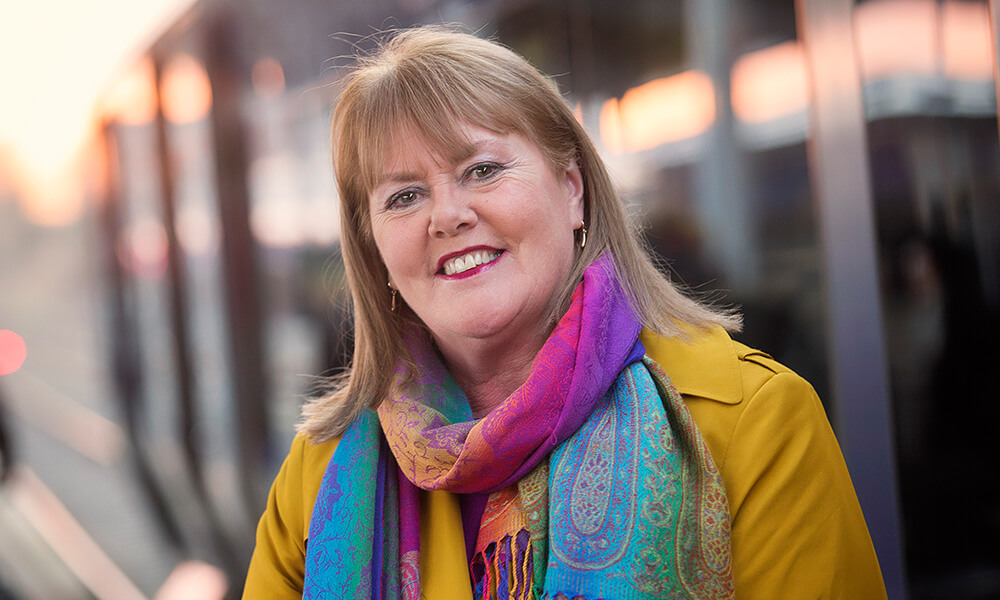 I grew up in Belfast, Northern Ireland but I now live in Carrickfergus. I am 62 years old and have been married for 41 years to my lovely husband Brian - we met on a blind date back in 1973 when I was only 16. Together we have 4 wonderful children, Louise, Mark, Christine and Steven, all married and 12 beautiful grandchildren who we adore very much! If I had to describe myself in 3 words it would be adventurous, positive and organised.
I have worked full-time for the past 33 years with a break of 12 years to raise my family. My husband and I love cruising and travelling and have visited parts of Sri Lanka, Australia, New Zealand, Asia, Europe, Caribbean and America, with still many more places to visit! We have a touring caravan and take this away every holiday period and weekend when we can. Our plans when we retire in 2019 are to travel with the caravan through Europe.
My mother was diagnosed with breast cancer in 2011 aged 85; she also had a mastectomy but gladly didn't need any follow up treatment other than to take tamoxifen for 5 years. Unfortunately, her own mother died from cancer in 1961, which is why I had genetic testing carried out because of the risk to myself and my 2 daughters, gladly there was no cancer genes found. My own cancer was therefore not related to my grandmother or mother.

When were you diagnosed with breast cancer?
I was diagnosed with Breast Cancer on Wednesday 20th May 2015, I was 59. I had been having pain in my left breast for 4 months and eventually went to my GP but because there was no lump they didn't refer me to the breast clinic, it was only after discovering a discharge a few weeks later that I was referred to Antrim Area Hospital. I attended the hospital where they carried out an ultrasound, mammogram and biopsy. The nurse asked me to go and have a coffee and come back in 20 minutes. I telephoned my husband at work and explained that I was waiting for the results of the biopsy. He had said that he would come up to the hospital and meet me at the Breast Clinic but I said I would be fine and would ring him once I got the results.

Just to give you a little background information, when I was 16 I had a small lump removed from my left breast which was benign and in 2010 I had a biopsy taken which again was benign, so I guess I wasn't expecting it to be anything sinister. However at 12:20pm (it is strange the little things you remember), I went back to see the consultant and they informed me that it was cancer. It would be a further 2 weeks before I knew what type of cancer we were dealing with.
How did you feel when you first found out?
When I first found out I was in shock. I remember sitting in the same room 4 years earlier when my own mother was diagnosed and her telling the consultant, "well I need to accept this and get on with it". So my own thinking was the same, this was something that had happened to me so I had to deal with it as best as I could. I have a strong Christian faith and driving home from hospital that day I prayed to God that as this was out of my control I was placing this into His hands.

I didn't ring my husband straight away, but went home, did my shopping and made the dinner before sitting down with a cup of coffee and ringing Brian at work to tell him. Once I actually said the word cancer, I cried. I guess it reality hit home that I had cancer. My husband came home from work immediately and gave me a big hug and said that we would get through this, he telephoned the children to tell them as I couldn't speak to them. My children each sent me lovely text messages to let me know that they loved me, and knowing the person that I was that I would kick this thing into touch (two of my sons played rugby).
Who did you turn to when you first found out and who helped you the most throughout?
My husband was there to support me but he had no experience in this sort of thing. One of my friends put me in contact with her friend who had come through this journey the year before. Kathy called to the house and it was so helpful and encouraging to speak to her. She was able to advise me on her surgery and what to expect, she had also come through radiotherapy so advised me on what to expect from this, what type of bras to buy and to look online at Nicola Jane. She called several times over those months and she was a great encourager.
What type of surgery did you have?
I had initial wide local incision surgery on Tuesday 23rd June 2015, followed by left side mastectomy and lymph node removal on Tuesday 28th July 2015. After this I had 25 sessions (5 weeks) of radiotherapy, starting on Thursday 17th September 2015.
What Advice Would You Give To Other Ladies?
Stay positive and look to the future. Try something you have never done before, for me it was acting.
I also learnt how useful it can be to speak to someone who has experienced breast cancer themselves, on many occasions I have been able to get alongside other ladies who have and are going through breast cancer and I hope that I have been a help and an encouragement to them.
Do you have an inspirational story to share with other ladies?
I was determined that 2016 was going to be a different year from 2015, so when I had the opportunity to appear in a movie I jumped at the challenge. Something completely different from anything I had ever done before. To date I have acted in 4 films and 2 TV commercials. I never let the cancer stop me from achieving my goals. Sometimes we get a second chance in life for a reason and we need to make the most of this. If you want to do something – do it.
Do you have a favourite Nicola Jane bra?
Safina Ultimate Uplift Bra
by Anita is my favourite, it comes in difference colours. It fits like a glove, it lifts my bust line, has an elastic upper cup edge which ensures a close fit to my chest wall. I find it always give me the perfect fit!
Do you have a favourite Nicola Jane swimsuit?
Cote d' Azur Skirted Ruched Bandeau Swimsuit, which was one of my swimsuits that I took on my 4 week holiday to New Zealand and Australia in January 2016. Although it is a swimsuit I love the fact that it also covers the tops of your legs like a sundress when you stand up.
Do you have any post-surgery styling tips?
A good support bra will give you a good shape under your clothes and that goes a long way to feeling confident. I also feel more confident when I have my make-up on.
What are your plans for 2018?
More acting!
After losing 3 stone I plan to have breast reconstruction this year.
My husband and I will also be going on a cruise around the Greek Isles in November which we are really looking forward to!