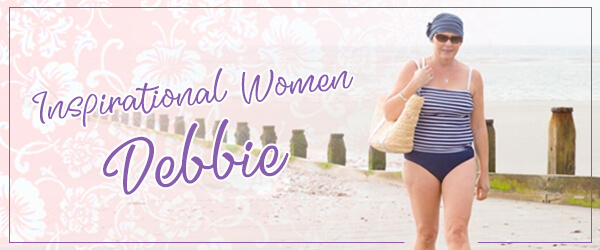 Hi Debbie, this is the first time we have caught up with you since the Nicola Jane catalogue launch. How did you feel seeing yourself as a Nicola Jane Inspirational Woman?
I thought "wow...just wow!" I couldn't believe how good I looked, the photoshoot was two days after my last chemo session and I looked so well. I would never have had the confidence to do anything like this before my mastectomy and yet now I seem to have a new view of life. I feel more courageous and willing to have a go at things that push me way out of my comfort zone. I am so happy that something positive has come out of this journey.
What have you been up to since we last saw you?
Since you last saw me I have completed my treatment (I completed my radiotherapy at the end of November) and I have been back at work since December. I continued to write my blog right up until May this year when I lost my lovely mum. I have dedicated the blog to my mum as she was such a great support to me throughout my treatment and she was so proud of the way I dealt with my illness. The blog has ended up being over 50,000 words! I can't believe how much I have written, I am currently trying to source help to get it published. I think that if I'd had the chance to read something like it while I was going through my breast cancer treatment, it would have helped. I have looked at the idea of designing a pretty drawstring bag to keep a prosthesis safe when it is not being worn, I would like to call it a 'Bosom Buddy'. I have also tried to pack as many holidays in as I can and so far this year we have been to Scotland, Gran Canaria, Poland, the East Coast and Kefalonia...last year has taught me to live every day to the full and never dither about something you can do today!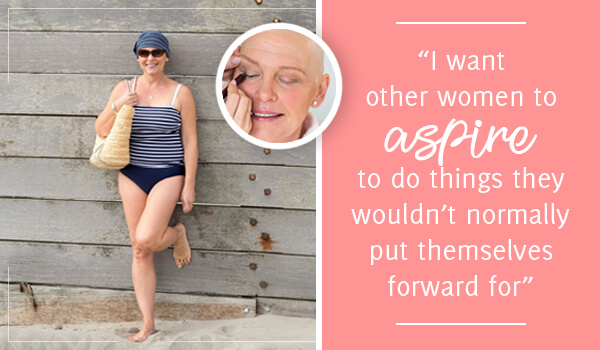 At the Nicola Jane Inspirational Woman photoshoot you wore the St Martin 3 Piece Bandeau Tankini. How did you feel wearing it? How did it suit your surgery?
The
St Martin Tankini
was a very flattering tankini and I felt 'normal' wearing it. It is quite a classic, understated design and it felt comfortable and classy. The prosthesis pocket was discreet and comfortable and no one would know from looking at me that I only have one DD breast left!
After surgery some ladies feel nervous about wearing a swimsuit for the first time, what would your advice be?
My advice would be to go out there and be proud, you are still the same person and beauty shines from within. I think it is essential to treat yourself and splash out on a good quality post-surgery swimming costume, just as you would with a post-surgery bra. I have a couple of Nicola Jane swimsuits that get commented on every time I wear them from people who know I have had a mastectomy and from people that don't know. I thought my days of ever wearing a bikini were over but I now know differently and I am going to treat myself to a Nicola Jane bikini before my summer holiday.
What is your favourite 'go to' summer outfit which makes you feel confident?
My favourite 'go to' outfit for summer is a white shift dress with a cobalt blue greek key embroidery pattern on the front - it screams summer!
The Nicola Jane range has given me the confidence to just be me again...one day I would like to be able to work for the company in some way, as I would like to be able to help other women feel as good as I do now!