Debbie was first featured in the Nicola Jane catalogue in 2017, modelling styles from our post-surgery swimwear and lingerie collection. Debbie was still going through her treatment but she didn't let it slow her down in her mission to inspire other women going through breast cancer. Since then Debbie has modelled the Nicola Jane 2018 Swimwear Collection on the
catwalk
for charity and will be featuring in a 'calendar girls' style charity calendar for 2019.
An introduction to Debbie's story...
On 1st April 2016 Debbie was diagnosed with stage 2 lobular breast cancer, one of the most common forms of breast cancer. It develops in the milk ducts of the breast, making it difficult to detect without a mammogram. It doesn't manifest itself as a lump, or change the breast shape. It was after a routine mammogram on 11th March 2016 that Debbie was called back for a further mammogram, ultrasound and four biopsies. She knew something was "drastically wrong". On 1st April 2016, her worst fears were confirmed. Her right breast would need to be removed followed by chemo, radiotherapy and a course of drugs for the next 10 years.
To help her process what was happening Debbie began to write notes in a diary, but her daughter Georgia convinced her to go one step further and write a blog which could be shared with a wider audience. This sucessful blog has now been adapted and launched as a
book
, designed to help, support and inspire even more women!
After reading Debbie's story one reader left the following review: "Debbie bares it all, and we're along for the ride. Through humour and a reliance on friends and family, Debbie's story is at times inspiring, heart-warming, funny and deeply moving."
"I'm so pleased I recorded all my feelings, the good, the bad and the irrational. If it can help just one person who is going through their breast cancer diagnosis, I'll be happy." - Debbie

To read more of Debbie's story you can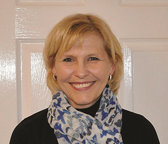 order "Storm in a D Cup!" from Amazon as a paperback and on Kindle.