Meet the Jasmine bra by Royce: Beautifully designed, this customer favourite is both pretty yet supportive from A to G cup fitting. The attractive lace topped cup edge is scalloped up to the straps, adding femininity to this great fitting bra. This is a firm support bra that features front adjustable straps. The Jasmine is suitable after radical or partial mastectomy, lumpectomy and reconstructive surgery.

"The Jasmine bra is often my go-to bra when fitting ladies. The narrower centre-front and side wings tend to suit ladies who are looking for less coverage." Melissa – Lead Fitter and Operations Manager


Styled for all-day comfort and fantastic support, this soft cup bra from Trulife features a pretty lace trim at the neckline and satin ribbon bow in the centre. The Barbara is a medium support bra that features rear adjustable straps and breathable CoolMax pockets. This style is definitely an essential addition to your lingerie collection and comes in a lovely colour palette (black, nude, white).
This bra is definitely an absolute favourite of our customers and we receive many fantastic reviews for it! One satisfied customer wrote: "This bra is a must. It is so comfortable it has to be the best bra I have ever had. It is so comfortable and light it feels like you are not wearing a bra."

Nicola Jane fitting tip for the Barbara Bra:
"We have found that this bra comes up a little small in the cup so we would advise going up a cup size particularly if you are quite full. For example if you are a D cup we advise trying a DD cup."
Our popular Lottie bra is a super-soft, seamfree t-shirt bra. The padded cups hide any differences in breast shape or size, giving you an even, smooth silhouette. Made from a super-breathable modal fabric which is just like cotton, this style keeps you cool and comfortable all-day long. The Lottie is a medium support bra that features rear adjustable straps and is a great option to wear after having radiotherapy as it is so soft.

Our Fitting Specialist Sue Cooper loves the Lottie because: "It's perfect for the early days after the operation, as its super-soft, comfortable fabric with the delicate lace trim gives great comfort and boosts your confidence".
Perfect under t-shirts and other tight fitting clothes, the Beth's non-padded, seamless cups ensure that there are no lines to show through, while the soft stretchy fabric gives a perfect fit. A pretty satin trim that graduates from the soft cup edge to the straps, gives this essential style a feminine twist. A deep centre front and side wings guarantee complete coverage. This is a medium support bra that features rear adjustable straps.

The Beth is our London Fitter Maureen's favourite bra! She recommends it as "the Beth is a lovely almost silky feeling bra, which makes it a great choice for ladies shortly after surgery or with sensitive skin".
A stunning floral lace bra exudes style and femininity whilst giving you support and comfort. The lace camisole provides cover across the chest wall to discreetly cover any high scarring or where the chest indents. The deep underband holds the bra securely in place. This is a medium support that features rear adjustable straps and is suitable for all types of breast surgery.
Jackie, our South West Fitting Specialist loves this bra because "it's a great choice if a lady finds their prosthesis falls away from the chest when leaning forward. The clever elasticated camisole lace helps the bra stay close to the chest wall allowing the wearer to feel confident the prosthesis won't move. Also the perfect bra to wear with a wrap dress."
Our Leisureform – Weighted Foam Prosthesis is the perfect lightweight alternative if you swim or enjoy leisure activities and find your silicone prosthesis too heavy. The Leisureform is 60% lighter than full silicone prostheses and is made out of soft moulded foam with a silicone centre. Even though it is significantly lighter than a standard silicone prosthesis, it is still weighted enough to keep your bra or swimsuit in place. This prosthesis can be worn on either side, is sold individually and comes with a removable cotton cover for ease of washing.

One of the great reviews we received for the Leisureform: "I am so happy to have found these prostheses. They are comfortable to wear, they keep me cooler than the heavy, heat retaining silicon ones but best of all they do not drag down the neckline of my pocketed t-shirts. I will be buying them again."
The Featherweight-Foam Swim Prosthesis is our best-selling swim prosthesis and is made from soft moulded foam that gives you an excellent shape within your swimsuit. This breast form is specifically designed to be worn for swimming or for leisure activities, but can be worn everyday as a lightweight option. As it is very light, it is a great option to use immediately after surgery. This prosthesis can be worn on either side, is sold individually and comes with a removable cotton cover for ease of washing.

"I am very happy with this product. It fits nicely in my bikini and the shape looks quite natural. The foam does not retain too much water and so doesn't sag when coming out of the water. It is quite fast drying too! I really like the light weight and use it every day too instead of my silicone one!", a review by one of our customers.
Lindos Chlorine Resistant Swimsuit (S911)
Our popular Chlorine Resistant Swimsuit is a classic blue darted swimsuit that boosts your confidence! It features a high neckline and is pocketed on both sides for a secure swim. This style is one of our most loved ones as it is chlorine resistant, which makes it the perfect sporty style for regular swimmers. Available, in long and standard length, this is style is a great option for taller ladies. This year we feature a blue version of this style, but due to popular demand it will be back in a gorgeous purple in 2020's swimwear collection!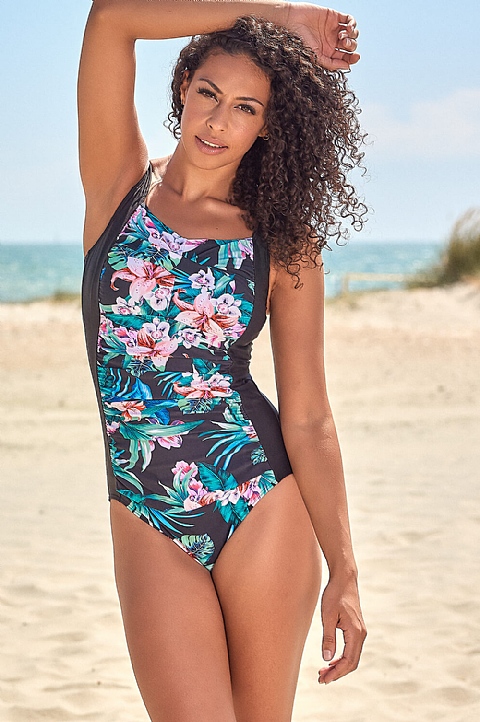 Hawaii Ruched Swimsuit (S903)
Available in sizes 10-20, the feminine florals and the sweetheart neckline make this ruched swimsuit a holiday essential! This swimsuit is designed to make our customer's look and feel amazing. The added tummy control lining and the side ruching is super flattering to any body shape.

Elisa, one of our customers reviewed this style: "Looks great on! I bought it because I like the pattern, but the ruched detailing is amazing. It really makes me feel confident again in my own skin."