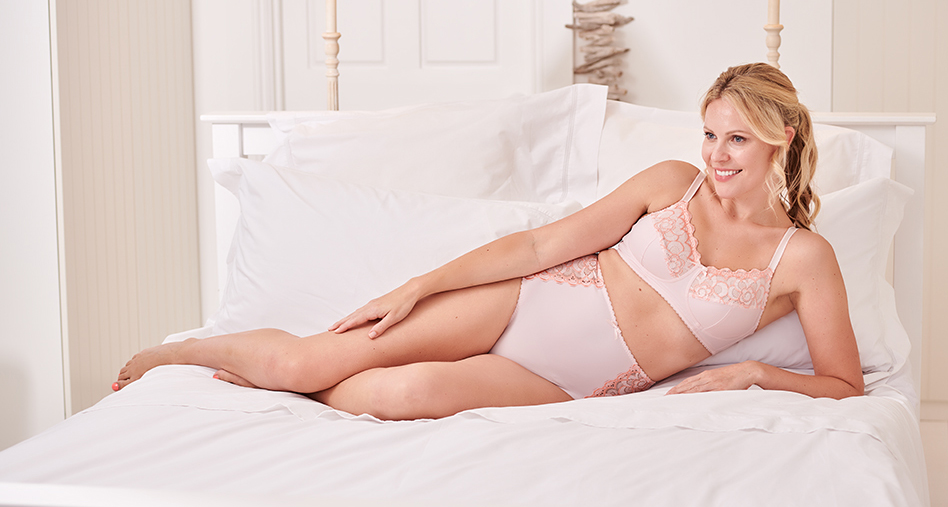 The new styles are specially designed to provide a great fit, with comfort and support following breast surgery. Our designers ensure the styles have higher fronts and underarms to hide scarring and fitted with pockets should you wear a breast form, allowing you to feel comfortable all-day long.
Get to know some of this year's new additions:
Jane (7052)
Super-Soft Camisole Bra
The new Jane bra is the ideal soft camisole bra! Featuring seamfree, padded cups, and a lace camisole, this bra gives you an even smooth silhouette and extra coverage. To keep you cool and comfortable all day, this bra is made from a super-soft breathable, modal fabric.
Why we love Jane…the silky-soft fabric is kind and gentle on your skin, ideal if you have sensitive skin from radiotherapy or discomfort from surgery
Available in Ivory and Blue
Available in 32-40 AA, A, B, C, D cup and in 42 A, B, C cup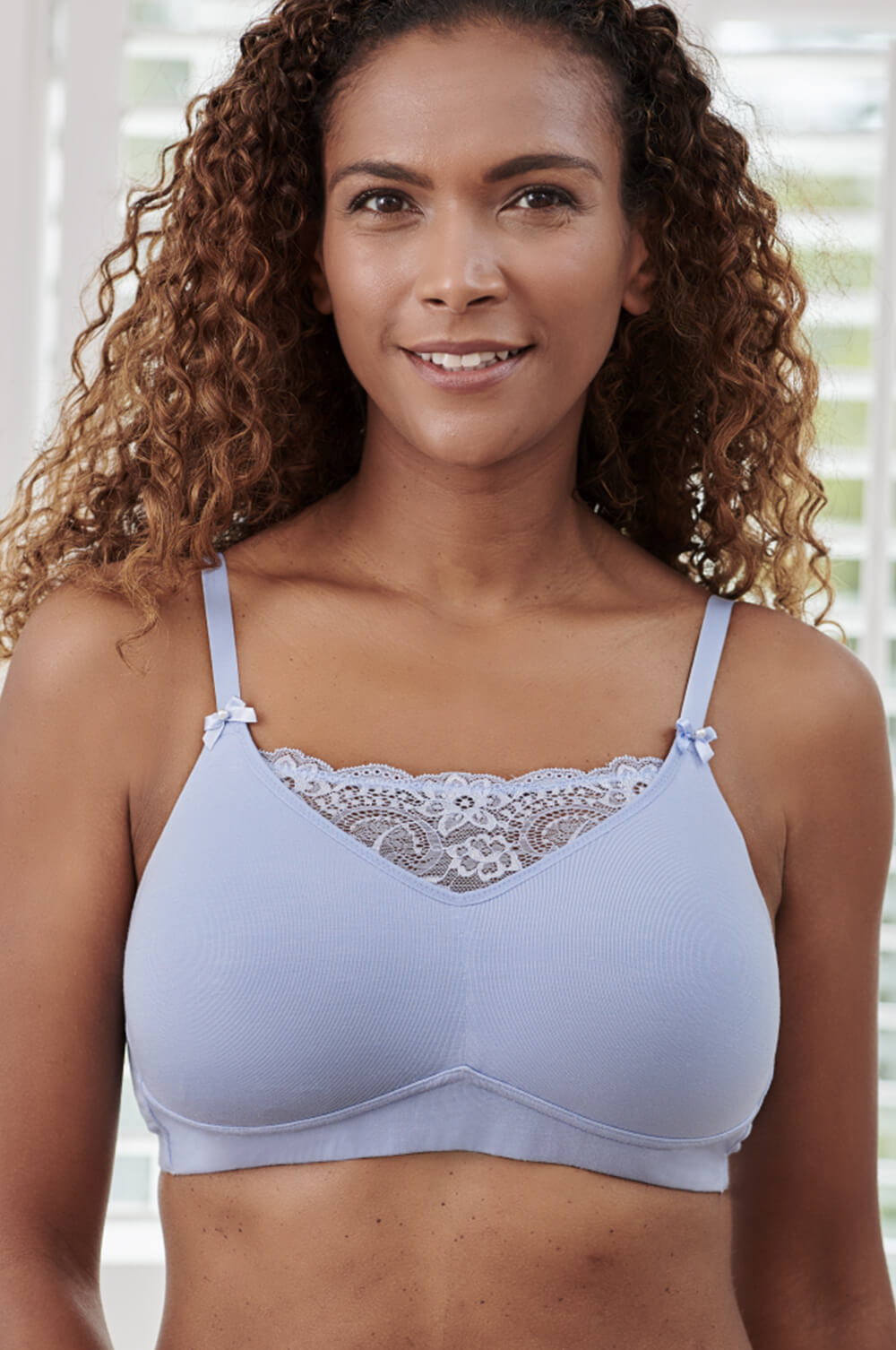 In 2019 we introduced the Isabella (9010) in white, which was an instant success, so this year we are excited to launch the same style in black with a gorgeous gold-embroidered trim on the cups and the matching briefs! The Fiona offers a firm support, non-padded cups and wide rear adjustable straps. It features 100% cotton pockets on both sides to guarantee comfort all-day long.
Why we love Fiona…comes with matching briefs to create a super-stunning matching set. Who doesn't love a matching set! The wide straps are ideal if you suffer from lymphoedema, giving you a pretty yet practical option to relieve symptoms.
Available in 32-44 B, C, D, DD, E, F and G cup
To complement our front fastening collection, we are introducing the Victoria bra – a beautiful lace hook and eye front-fastening style in an on-trend plum colour. Designed to offer comfort and support after surgery, this style features 100% cotton pockets, rear adjustable straps, no padding and medium support.
Why we love Victoria….as well as being gorgeous and feminine, the front-fastening feature offers a practical solution if you have restricted arm movement, allowing you to easily do up without discomfort.
Available in 32-42 A, B, C, D, DD cup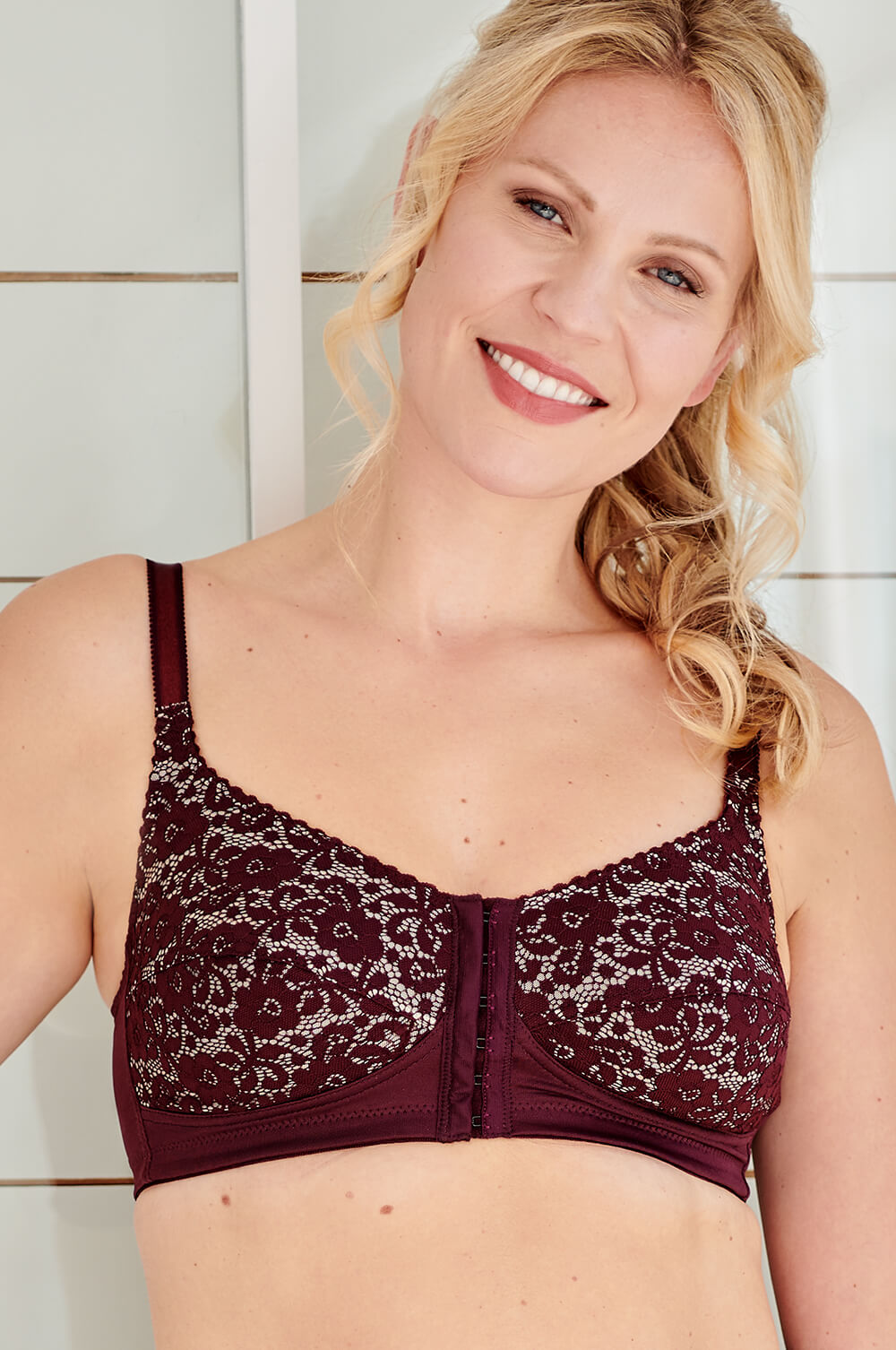 See all of this year's bra collection:
HERE
We are excited to introduce the new range of confidence-boosting swimwear styles. Our Design Team have taken care and consideration to create a collection to suit all types of breast surgery. Designed to make you feel comfortable and secure with higher necklines and underarms, whether you are at the beach or pool. Discover a selection of our new styles:
Kos (S212)
Ultimate High Neck Tankini
Step out in style in this gorgeous Kos two-piece tankini. The high mesh neckline and multi-way straps will boost your confidence and feel perfect for when you are ready to get back in the pool following all types of breast surgery. Combines with blue boy shorts for extra comfort and coverage.
Why we love the Kos Tankini...the new boy shorts are a must if you prefer a bit more leg coverage. Introduced after listening to customer comments, we hope you like them!
Available in Sizes 10, 12, 14, 16, 18, 20, 22, 24, 26
Timeless yet stylish – this chlorine resistant swimsuit is the perfect option for your swimming sessions. The flattering V-neck and the hidden pockets will make you feel your best. Available in standard and long length, offering the perfect fit for everyone.
Why we love the Mauritius Swimsuit… the V-neck gives a gorgeous neckline. The long length options is great for tall ladies or ladies that have a longer torso and find standard swimsuits a notch too short.
Available 10, 12, 14, 16, 18, 20, 22
Ultimate High Neck Bikini
Embrace your playful side in our Tokyo inspired colourful print. This 2-piece set features a top with a clasp fastening for an easy fit and multi-way straps for versatility. The mesh panel on the top and the slightly higher cut bottom make this bikini a true confidence-boosting option.
Why we love the Tokyo Bikini… the ultimate high mesh panel gives a great amount of coverage and the detachable straps on the back are great for ladies who prefer a cross-back style.
Available in 8, 10, 12, 14, 16
See all of this year's swimwear collection:
HERE