I have to admit that I quite like the colder weather. I like having candles lit, blankets on the sofas and generally creating a cosy home. When it's cold I crave creamy pastas, curries, soups and stews but I want them to be good for my body. The winter months are a time for slowing down and renewing; getting ready for the new energy that the spring and summer bring. These recipes are filling, warming and comforting – everything food should be in the colder months. Oh and they just so happen to be vegan and bloody good for you too! Hope you enjoy!

Chestnut & Roasted Squash Risotto

The squash, chestnut and parmesan combo is such a winner in this recipe. Serve in big bowls with extra parmesan. Violife do a great vegan parmesan!
Ingredients

Red onion
1 celery stick sliced thinly
3 garlic cloves chopped finely
1tsp thyme or rosemary
500g butternut squash/pumpkin chopped into bite size pieces
Handful of green beans
1lt of good quality vegetable stock
Pack of cooked chestnuts
Vegan parmesan
Parsley chopped
Arborio rice
Cooking instructions
1 Heat a little oil in a large pan and cook the onion over a low heat until soft, add the thyme and garlic and cook for two minutes more.
2 Pop the squash on to a baking tray with a drizzle of oil and some seasoning. Cook for around 15 minutes or until it's soft and has some lovely brown bits on!
3 Stir in the rice and then start adding the stock a little at a time, massaging the rice with a wooden spoon (yep, I said massaging!). Wait for the stock to be absorbed before adding more stock. Continue until the rice is tender but still has a slight bite. Add the squash and then take a fork and mash up some of the squash then add the chestnuts.
4 Add a generous handful of grated vegan parmesan and stir. I like to serve this with some lovely green beans but add whatever greens you like

The Best Veggie Lasagne

This takes a bit more time but it's worth it!
Ingredients

Homemade or great quality dairy free pesto
Almond milk
1tbsp dairy free butter
1tbsp flour

For the tomato sauce
2 cans chopped tomatoes
2 cloves of garlic crushed
Small handful capers (optional)
1 large finely sliced red onions

For the rest
1 sliced aubergine
2 sliced courgettes
1 sliced yellow pepper
1 sliced red pepper
Lasagne Sheets (wholemeal if you can)
Dairy free mozzarella
Cooking instructions
1 Preheat oven at 200 degrees C
2 Griddle or fry the aubergine, courgette & peppers. If you are frying use a small amount of olive oil or coconut oil. Keep to one side for later on.
3 Fry the onions & garlic until soft and then add the chopped tomatoes & capers, cover & gently simmer for a few minutes . Keep the tomato sauce to one side for later.
4 Make a white sauce my melting the butter in a saucepan, adding the flour, stir to combine and then whisk in the almond milk a little at a time letting the sauce thicken before adding more milk. Keep doing this until you have enough white sauce and its the right consistency. Then stir in as much or as little pesto as you'd like and then season to taste.
5 Cover the bottom of an oven proof dish with a thin layer of tomato sauce, add lasagne sheets, a layer of pesto sauce, a layer of veg – press everything down and repeat the layers until your dish is full making sure you finish with a layer of pesto sauce.
6 Sprinkle grated mozzarella over the top, cover with tinfoil and pop in oven for around 40 mins
7 After the 40 mins is up remove the tin foil off and give it another 5 mins to get the top nice a crisp. For me the only way to serve this is a herby, crunchy and peppery green salad. Think, gem lettuce, cucumber, mint, basil, parsley, watercress…

Creamy Dairy Free Carbonara

A big bowl of creamy pasta – what's not to love!
Ingredients

100g of cashews (soaked in water for 2 hours or whatever you can manage)
100ml of coconut milk
2 tbsp of nutritional yeast
1 clove of garlic
1 tsp of Dijon mustard
1 small onion or shallot
100g of mushrooms
Handful of frozen peas
Handful of spinach
Cooking instructions
1 Blend the cashews, coconut milk and nutritional yeast together, add the mustard and season to taste.
2 Cook pasta to packet instructions and add the peas to the boiling water for the last couple of minutes. Drain well reserving a little of the cooking water.
3 Finely chop the onion and mushrooms and then fry them in a very small amount of coconut oil until just cooked.
4 Add the garlic and cook for another minute before adding the spinach and allowing to wilt slightly.
5 Combine the desired amount of carbonara sauce to the pasta and then top with the vegetables. Use a little of the reserved cooking water to loosen if needed.

Leek and Potato Soup with Herby Toasts

The herby toasts really pimp this soup up!

Ingredients

400g leeks, washed and sliced
400g potatoes diced
1.5 lt veg stock
320g kale
1/2 bunch of fresh mint
1/2 bunch of fresh parsley
40g parmesan (Violife one is my fave)
25g almonds
1tbs white wine vinegar
Olive oil
4 slices of wholemeal bread

Cooking instructions

1 Heat a little oil in large pan and fry the leeks over a low heat for ten minutes.

2 Add the potatoes and stock and then bring to boil for 15 minutes.

3 Add kale to the pan for the last 5 minutes of cooking. (remove any big stalks first)

4 Finely chop the mint and parsley and pop into a bowl, add grated parmesan, almonds, vinegar and 1tbs of olive oil.

5 Toast the bread lightly and then spoon a little of the herby mixture on top of each slice.

6 whiz soup up with blender until smooth and serve with the toasts! You can also add a little coconut milk into the soup at the end if you want it creamier!

Veggie Packed Curry

Don't bother with the take out, try this instead on a cold night!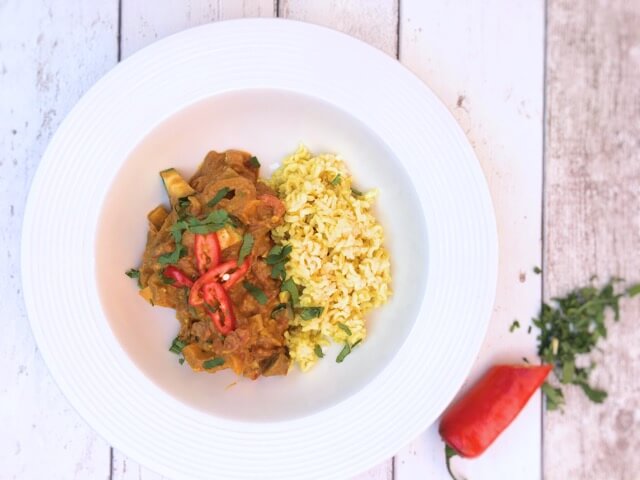 Ingredients
Coconut oil
1 onion
2 cloves of garlic crushed
2tsp of chopped ginger
2tsp garam masala
1/2 tsp of turmeric
1 tsp cumin
400g can of ready cooked lentils
400g can of chickpeas
200g chopped tomatoes
200g can of coconut milk
1/4 white cabbage sliced into ribbons
Coriander chopped
Brown basmati rice to serve
Cooking instructions
1 Fry the onion in a little coconut oil over a low heat until it starts to
2 soften then add the garlic and ginger and continue to cook for 1 minute.
3 Add the spices and let them release their lovely flavour for a minute before adding the cabbage.
4 Add the lentils, chickpeas and tomatoes before pouring in your coconut milk to taste. Once you are happy with the consistency and the cabbage is cooked (but not too soft) sprinkle over the chopped coriander and serve with brown rice and some extra red chilli if you like a kick!