Tell us a bit about yourself and your background:



My name is Dana Donofree and I grew up in a tiny farm town in the middle of Ohio. I started making and designing clothes for myself at a young age. My mother and grandmother both taught me how to sew. I loved making clothes and costumes, and I dreamed of the day I would be one of the biggest fashion designers! My mom still has my embarrassing early sketchbooks to prove it.

I consider myself lucky—I was one of those people who always knew exactly what they wanted to be. Everything I did was focused on creating things, from purses and jewellery, to dresses and shirts. I studied fashion design at Savannah College of Art & Design, then moved to New York City to follow my dream. I worked in several design houses before receiving a breast cancer diagnosis at the age of 27. That experience led me to launch AnaOno Intimates: beautiful, comfortable intimates that fit your new body after breast surgery.

What gave you the inspiration/motivation to start AnaOno?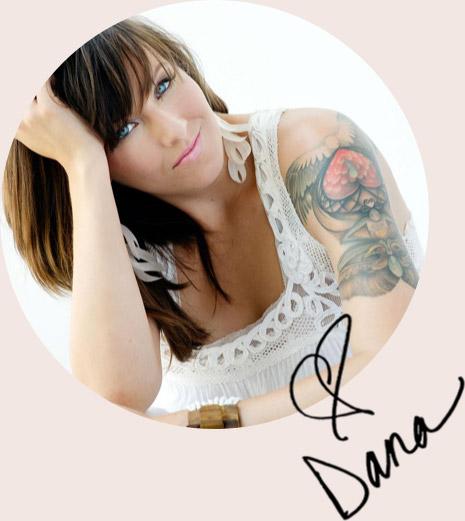 I was diagnosed in 2010, one day before my 28th birthday and two months before my wedding date. Everything stopped and I postponed my wedding. I had to undergo a bilateral mastectomy. I chose reconstruction and went through six rounds of chemotherapy plus a year of targeted radiation therapy.

After my mastectomy and reconstruction, I discovered how completely different my new body was (and boobs were). I was prepared to have to buy different bras after surgery, but I never expected that at the age of 28 I would be thrust into a world of lingerie that looked like it was designed for my grandma. I wanted something just as beautiful as what I had worn before cancer, something that didn't cause unnecessary pain and didn't look like a dowdy "grandma bra". I wanted something that made me feel like ME. I couldn't find it, so I decided to design it myself.


Where do you draw your inspiration from for new styles?

This community is one of the most supportive and engaging communities I have ever been a part of. Of course, I wish I wasn't part of this "club" but once you're in, you are supported always! I get loads and loads of customer feedback, and I get to hear others' inspiring stories.

In designing bras for those of us that aren't well-served by traditional lingerie and want to celebrate our own style, I hear from those living flat who still want a beautiful bra to cover their scars, from those who were able to keep a healthy breast but lost the cancerous side to a mastectomy, who don't always leave the house with a breast form, and need their natural side supported, to those who have implant reconstruction or FLAP reconstruction and no longer can wear an underwire comfortably… all of these unique challenges yield different designs. I am happy to say we have bras that fit all these different needs, from one boob, two boobs, or no boobs at all. I want to make sure we have design solutions for all surgery outcomes.


What is your favourite part about being a designer/ owner of a lingerie company?

I love waking up every morning and doing what I love! It has always been my dream to have my own company, my own fashion line, and I am doing it! I love helping women like myself feel beautiful again, feel strong again, feel empowered again! We lose so much during a cancer diagnosis—I love helping others find a new path back to themselves.


Do you have a personal 'fashion motto'?

Work it. It's fashion! You can never really go wrong when you just own it! The way we dress expresses our unique identity; it is our opportunity to show the world who we are without words, it is our presence and our essence. Enjoy it, love it, celebrate it!

What Has Been Your Proudest Moment With AnaOno So Far?

My proudest moment was our first ever New York Fashion Week show in 2017 with my late partner, Champagne Joy of #Cancerland. We showcased the intimates' line while raising money for Stage IV Metastatic breast cancer research. I knew the world needed to see what breast cancer actually looks like—not the ads with smiling, happy women jumping up and down. We showed scars, we showed different bodies, different ages, different surgery decisions, and the show went viral on The New York Times in just a few hours! It told me that what we were attempting to do was truly needed, that those affected by breast cancer around the world wanted more, they wanted better options, and they wanted to feel empowered! Our show helped to do that.


What has been your biggest challenge with AnaOno?

Running a small business is NOT easy, not in the slightest, but at AnaOno we are more than just a bra. We have found that people need so much educating on what breast cancer actually is. That the body is forever changed after surgery or treatment. That once a breast is removed, even if it's replaced, you are not the same as you were before and that is why different intimates are required to support you in a new way. We also help inform patients what challenges may be ahead, from intimacy and sexuality, to a changing body or breasts, and how some of these side effects can last a lifetime. The burden of having real conversations around the disease while also serving our customers is a lot of weight for a small and growing business, but we are happy to trailblaze these much-needed topics!


Do you have any styling or lingerie tips that you would like to share with women affected by breast cancer?

Don't get frustrated. I am a trained fashion designer; my entire life has been about making clothing, and even I didn't know how to dress myself following surgery. I couldn't find a bra that fit well and was also comfortable! So, don't get overwhelmed. Try new things: a flowing top, shopping at new stores… take it as an opportunity to explore your style and self-expression. Start fresh with your new body and your new life, after you get a great bra that fits of course! The rest falls into place once the layer closest to your skin and your scars is right!


We are proud and excited to introduce three gorgeous AnaOno styles in our 2020 collection:


Tell us about the 'Leslie' Bra (AO027):

The Leslie bra is one of my all-time favs. It is simple, but elegant. It is soft and lightly supportive. It is versatile and can be worn following surgery (because it is easy to step into) or even as a layering piece, or a sleep bra. It can be worn during yoga and light exercise, while not compressing any sensitive areas. It is pocketed for modesty forms or lightweight forms and fits comfortably around implant and flap reconstruction surgeries. I also love it because how incredibly soft-to-the-skin the modal material is, which makes recovery during the sensitive times of radiation therapy a plus!





Tell us about the 'Delilah' Bra (AO019):

I love the flirty and fun details of the Delilah bra. The beautiful neckline, the super soft lace around the rib cage, and the comfortable soft cup are a plus when layering this under clothing or slipping into bed. The neckline is so beautiful, I don't ever mind it popping out of a beautiful low-cut blouse or button up shirt. The Delilah is pocketed for light weight breast forms and modesty pads, it lays flat on the chest, can be supportive to one natural breast and flat against a mastectomy side. You can even wear it if you are flat and fabulous and don't desire breast forms. It is flexible and moulds to your body, not the other way around.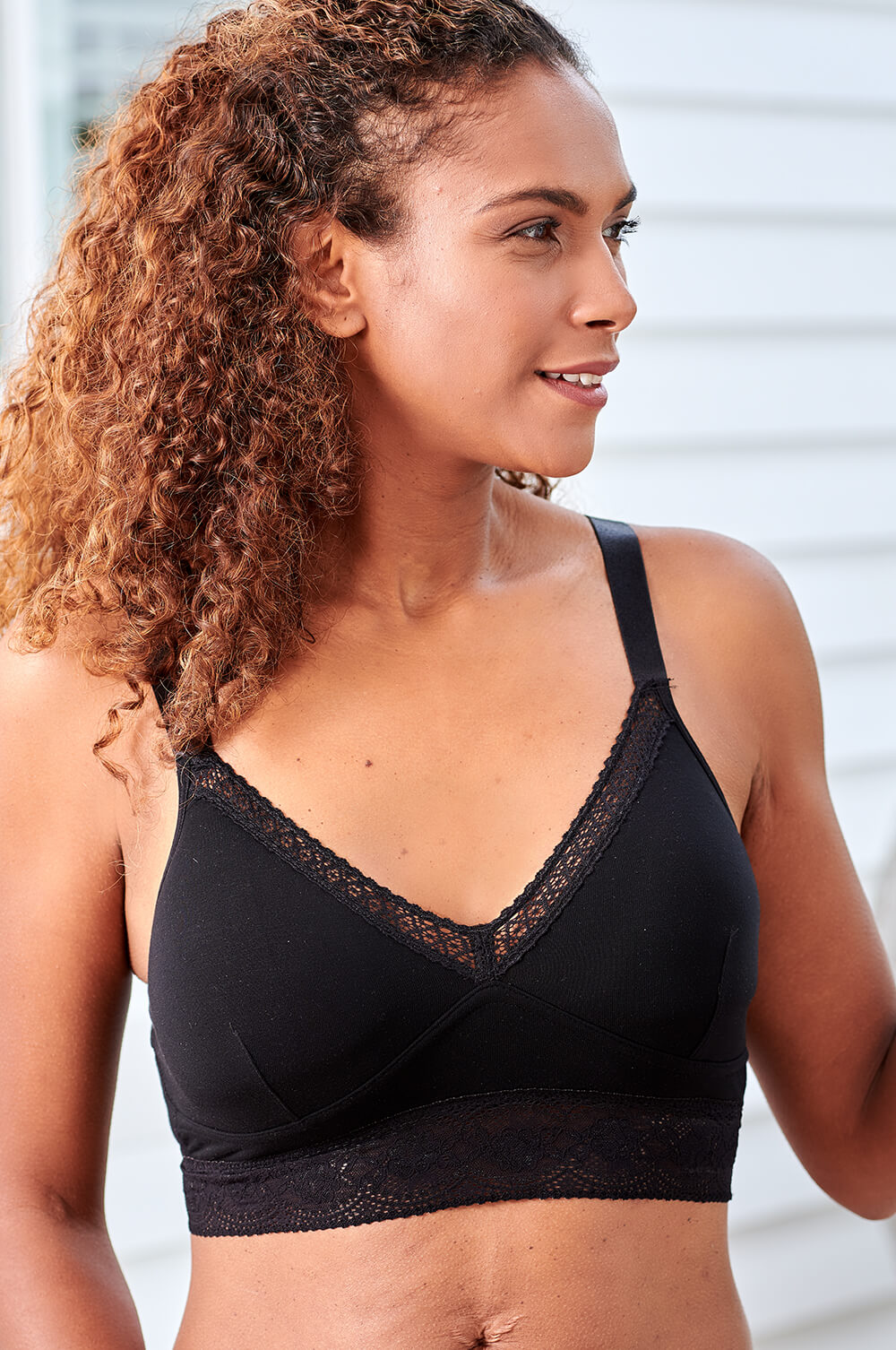 Tell us about the 'Gloria' Bra (AO035):

My Gloria helps me feel sexy! Like I can conquer the world. The Gloria is one of AnaOno's original designs. It's the most like a traditional bra, but with all the features and benefits needed following a mastectomy surgery. No underwires, no moulded or padded cups, just removable modesty pads (in the event of reconstruction with nipple-sparing procedure) and a soft underband that won't poke and prod you. The Gloria keeps you comfortable (and sexy) in all the right ways! This bra is great for lightweight forms or reconstructed breasts. It is feminine, classy, beautiful, and perfect for feeling good on a date night or any night!