It offers an integrated support services and effective and evidence based help for all those in the community whose lives have been affected by cancer. The benefits are varied and encompass many options which cater for those for whom medical interventions have become the norm; those who feel isolated, alone, frightened and believe they have to be brave for their families. Those who feel no one understands them, so seek to share the trauma of their life changing diagnosis with others like them.

A Macmillan study found that more than 4 in 10 people living with cancer experience five or more distressing or concerning emotional issues in a week, such as fear, anxiety, loneliness, anger or depression.

Cancer United focuses on the benefits of social interaction in many different forms, including regular weekly support group meetings in Littlehampton. The benefit that members derive from peer to peer support in particular is life changing.

The charity has a member representative committee of 16 members who via its wellbeing programme arrange social events, outings and fund raising events. There is no cost to being part of the support group.

Cancer United's vision is to improve the lives of as many cancer patients as possible from diagnosis onwards. It does this by supporting the NHS and offering services for cancer patients where they can meet others in a variety of social environments with whom they share a cancer experience.

Cancer United members have access to whatever it is that they require enabling them to move forwards with their lives. Encouraging positivity, motivation, determination and offering the opportunity to participate and interact with peers as well as being able to learn how to keep well, eat healthily and take exercise cultivates an ethos of health conservation.
Since its launch in 2012 Cancer United's growth has been rapid and includes;
the building of a specialist gym for cancer patients
the launch of cancer specific exercise classes under the CU Fitter banner
the launch of the CU Fitter Award in Applied Delivery of Cancer Exercise
the acquisition of two mini buses
the acquisition of a support and information bus
the acquisition of a vehicle to extend the CU Fitter cancer exercise programme to other cancer support centres across the county. 'A Pop Up Gym'
the formation of a Choir OUTSINGCANCER which meets to rehearse twice a week and is now performing at many events
the organisation of an annual running festival OUTRUNCANCER from which has come the start of a running club for cancer patients which will be linked with England Disability Athletics
OUTKICKCANCER a walking football initiative supported by Sussex County F.A
CU FITTER GYM
CU Fitter is the UK's first structured, cancer specific exercise programme of its kind delivering a suite of exercise initiatives to cancer sufferers across the South East. The programme has been developed by a high profile group of experts who have come together with us to create a holistic initiative which encompasses every aspect of cancer exercise from the clinical to the psychological. Since its launch in 2015 the gym has had over 600 members

Members pay £5.00 per class. There is no gym membership fee so although members are paying for their sessions it doesn't cover the cost of the trainers who are all trained in cancer specific exercise.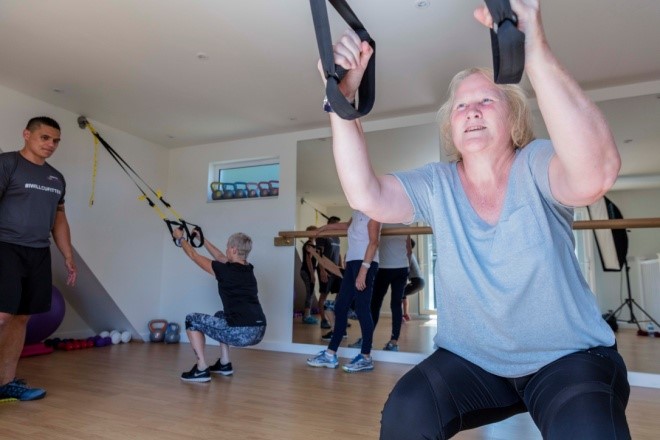 THE MINI BUSES
The mini buses are used for transporting members to meetings and the gym and also used to take members on fun social outings and events which raise awareness and funds. These outings times when members enjoy each others' company and bond together.




THE SUPPORT & INFORMATION BUS
Our support and information bus was gifted by another charity and it took 2 years and several sponsors and grant funding to get the bus on the road after it was vandalised while waiting to be refurbished. This beautiful bus is a major part of Cancer United's marketing and helps raise awareness and profile of the charity when it is parked up in retail car parks, leisure centres and hospital car parks and invite anyone who has a an interest in talking to us to come onboard

OUR POP UP GYM VEHICLE
Our pop us is full of small gym equipment which is driven by a CU Fitter trainer out to other cancer support charities so that we can reach as many cancer patients as possible with our CU Fitter cancer exercise programme. It also comes to the Cancer United meetings every Tuesday and Thursday as we have a general exercise session in between our meetings which is fun and gets everyone going.

OUTSINGCANCER
When 30 members went to the theatre at Christmas to see a Carol Concert, they too decided they wanted a choir. André da Silva a wonderful Musical Director had just returned to England from Brazil. Andre completely fell in love with the idea of OUTSINGCANCER and on 8th February OUTSINGCANCER was launched with CU members.

In just over a year, the choir has become very professional and regularly performs at different venues throughout the year.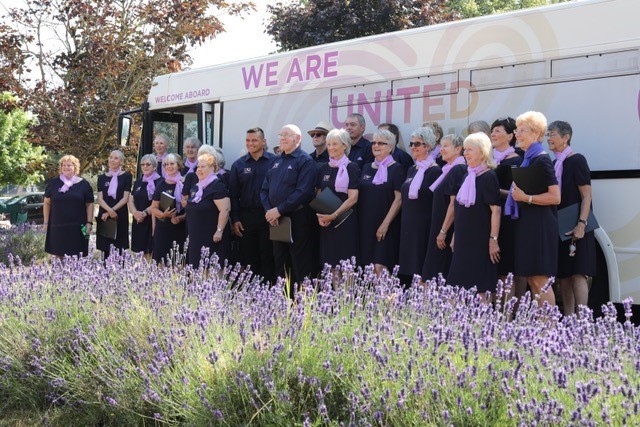 OUTKICKCANCER
Cancer United's walking football team comes together every Thursday morning to train and has now started to play in various tournaments. The team has grown from the initial 8 to now 15 and is continuing to attract players both men and women

OUTRUNCANCER
OUTRUNCANCER is the charity's annual event and attracts several hundred people to take part in the 5K and 10K trail run up through Angmering Park Estate and across the Sussex Downs. Lots of local running clubs take part as well as individuals and after the run there is a family festival day with many different stalls and vendors. There is also a Wellbeing tent where participants can have massages or even a hair cut if they wish. There is a pub within the festival grounds and the publican always puts on a barbeque. There is no need to be a runner to take part - Hadley, a 92-year-old CU member walks the course every year with Nordic Walking poles. People of all ages including children come together to have a truly wonderful time in a community settling.

From this annual event has come a demand for a Cancer United running club. This is a new project and led by one of the members who is an ultra runner and has been fighting cancer for over 10 years

Find out more about the Cancer United charity: https://www.cancerunited.org.uk/