My name is Sue and I am 65. I was diagnosed with breast cancer in January 2001 when I was 64 after a routine mammogram. I had noticed a slight wrinkling of the skin on my breast, but I thought it was because I was getting older! There is no such thing as a 'normal' day for me! Every day is different! My husband, Allan, died 18 months ago, two and a half years after being diagnosed with terminal bowel/lung/liver cancer. He was an amazing man (I'm biased I know, but still!). My Mum (90+) lives across the road from me, so my life is evolving and I meet each challenge head on!

I've just signed up for Line Dancing and Zumba classes and have bought a new 'pretty' all-terrain bike and am looking forward to learning how to cycle again! I also belong to a book club and love reading. Next year I intend to take advantage of every opportunity that appeals to me!
Biggest achievement in life to date?

I consider my biggest achievement being given the strength, both physically and mentally, to care for my husband, Allan, during the last days of his life. He died at home, as he wished, with me by his side. Our children were having a lovely happy conversation in the next room, laughing at something or other, which he would have loved to hear and our son-in-law and grandsons on Skype, so we were all with him, but not standing over his death bed being sad, which he would have hated.

When do you feel most confident?

I feel at my most confident, I suppose, when I face the world looking what I consider to be my best. I like unusual clothes and sparkly jewellery and being a hairdresser how my hair looks is also important (I had already decided that if I needed chemo and lost my hair I would have outrageous wigs and head scarves with lots of beads and sequins on them! I wouldn't be trying to blend into the background!).
How has wearing Nicola Jane lingerie made you feel?

I have only recently been introduced to Nicola Jane Lingerie. Before my op I searched everywhere for bras that would be comfortable after surgery, but found it extremely hard to find anything suitable, compromising with whatever I could find.
Wearing a bra/swimsuit/top that is comfortable and in which I feel confident is very important and Nicola Jane products do that.



Do you have any advice for our ladies?



Don't be afraid, cancer is now becoming a curable disease and not the death sentence it once was. Try to be positive, I'm sure that helps with the outcome, and be proud of your scars, they are a testament to your life, don't be ashamed of them.
I suppose the biggest surprise for me was how neat and inconspicuous my surgery scars are. My right breast is noticeably smaller than the left, but it doesn't look ugly, and it has quickly become part of me. I was offered any reconstruction I wanted, but I'm happy with how my breast looks and can't see any need to have more surgery.

Breast cancer can be a devastating diagnosis and living with the scars, physical and mental, can be difficult. I hope my story may help other women to see that there is a way ahead, no matter what life throws at you.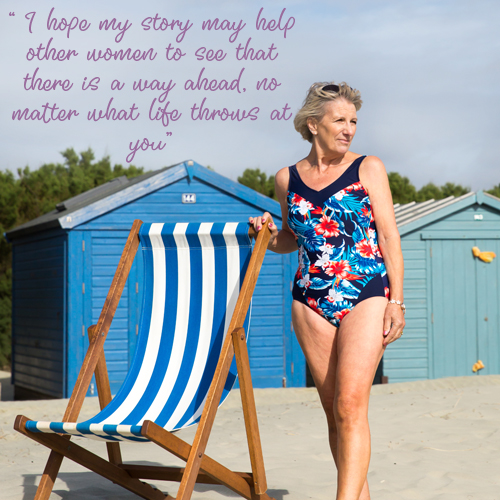 Sue is wearing the Kahului V-Neck Swimsuit (S714)