A bit about you:
I am a 33 year old, positive woman. I am lucky enough to have been married to the best man in the whole world for over 14 years. We have a daughter, who is 13 and I am currently a retail manager.
My day starts at 7a.m. I wake up my daughter, cook her breakfast and send her to school.
A normal weekday involves a certain amount of housework, admin and work, although I am often able to work from home which allows me to go to the gym 2-3 times a week. I have a large group of friends and try to meet them for lunch and a catch up as much as possible.
If I could choose any profession it would be a yoga teacher, psychologist or a model for Nicola Jane! However, I do enjoy what I am currently doing. When I was a child I had one dream – to have a strong family and be loved. I lost my father when I was 9, and I've always wanted to have a happy family.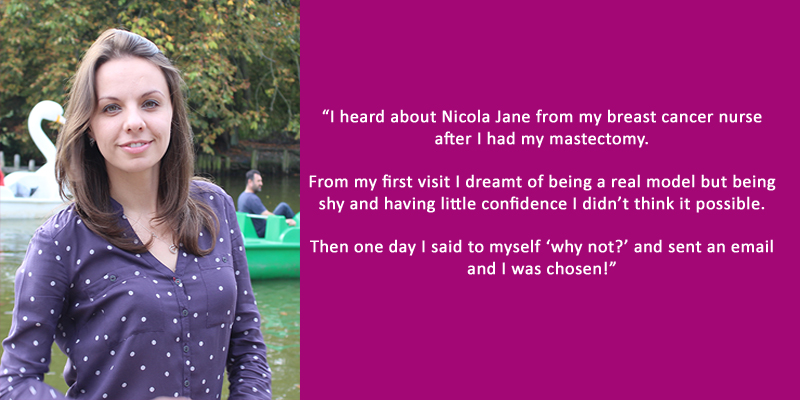 My hobbies involve sport and books. I enjoy yoga and do a class every week –I find it so beneficial for my body and mind! Next year I plan to get my driving license (I have just started to learn), perhaps volunteer in a charity shop and above all - be happy.
My biggest achievement is my family. If I had to explain myself in three words it would be strong, positive and caring. I feel most confident when I am healthy and have friends and family around me. I am at my happiest when we are all watching a film with popcorn on a Sunday evening.
I really enjoyed being a model for Nicola Jane, I had never done anything like it before, it was new for me but I loved it. Lingerie from Nicola Jane is always very nice and comfortable, I do a lot of shopping with them! I heard about NJ from my breast cancer nurse after I had my mastectomy. From my first visit I dreamt of being a real model but being shy and having little confidence I didn't think it possible. Then one day I said to myself 'why not?' and sent an email and I was chosen!

For me comfort is of most importance and NJ Lingerie gives me this but makes me feel beautiful too. I like all types of swimsuit, bikinis and tankini's for the beach and a solid swimsuit for the pool. I was diagnosed with breast cancer in July 2009 at the age of 26. I had a mastectomy, chemo, radio therapy and now I am on tamoxifen. When the doctor told me that I had cancer I was in total shock, I never thought it was possible at such a young age. I was very scared. I asked myself how I can live after losing my breast. How will my husband accept me? How will my family cope if I die? Despite the doubt I tried to remain positive at all times.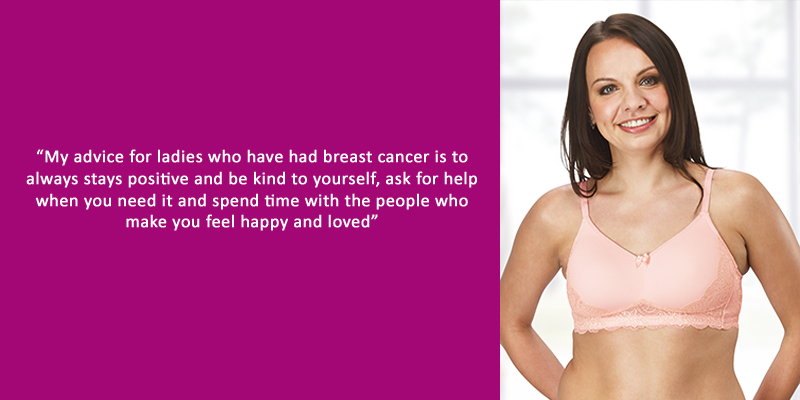 I am blessed to have had full support from my family and friends, they were always around and ready to help. This was very important for me, and meant I didn't even have time to think about cancer. After the treatment was done I tried to get back to normal life as soon as possible.
Cancer is horrible, but if it happens to you, you need to remain strong. It will definitely change your life, but you can adapt and still live life to the full. My advice for ladies who have had breast cancer is to always stays positive and be kind to yourself, ask for help when you need it and spend time with the people who make you feel happy and loved.
In a film about my life I would like to be portrayed by Sandra Bullock and if I was a Superhero, I would like to have the power of happiness and show everyone that life is beautiful. If I held a dinner party, my five guests would include my mum, she is always with me, my daughter, my husband, and my dad. He died when I was 9 and I have missed him whole my life. Last but not least I would invite my best friend Lesya – she is more than just a friend, she is like a sister to me.