I gave up full time employment as a Personal Assistant in 2006 to look after my husband who suffered from MS for a number of years. After his death in 2007 I worked part time as a PA and latterly as a receptionist at my local veterinary surgery. I also joined my local gym and started yoga classes which have been invaluable in keeping me fit and flexible. I have also started ballet fusion classes but my overall love in life is horse riding which I have done every week for the last 36 years.
I met my new partner 3 years ago and we love holidays abroad and weekends in the country. We both enjoy meals out and theatre visits.
A normal day for me would be getting up for a cup of coffee to take back to bed with my cat to watch a bit of breakfast TV. Then either going to an exercise class or meeting my sister or a friend for lunch. If the weather is good I would go for a walk and once a week I go up to London to work as a volunteer in a gallery.
I have always been happy in my career as a PA as I love to organise people, however lately I have realised how much I enjoy interacting with people and something in the media would have been great. I'm not aware of any particular work I wanted to do when I was a child…… As I have said, for fun I do yoga, ballet and riding. Next year we are planning a trip to New York and also to our beloved Greece. I may be able to go to one of the MotoGP races in Europe as I am a big fan of that and Formula 1 racing.
I don't know of any unusual fact about myself other than my somewhat blokey interest in racing. I guess my biggest achievement was a charity ride for a week in the Pyrenees for Scope in 2008 which was very tough. Some days we were riding for 10 hours over very difficult ground but I was very proud to be the oldest in the group and didn't fall off.

I applied to be a model after reading the stories of the previous women because it is so important to aim to help other women with breast cancer and hope my experience gives some confidence. I shop at Nicola Jane as the premier mastectomy outlet in London. The bras are so comfortable with big enough openings inside to insert prosthesis easily and the designs prevent the pockets riding up to show above the bra with no gaping at the front.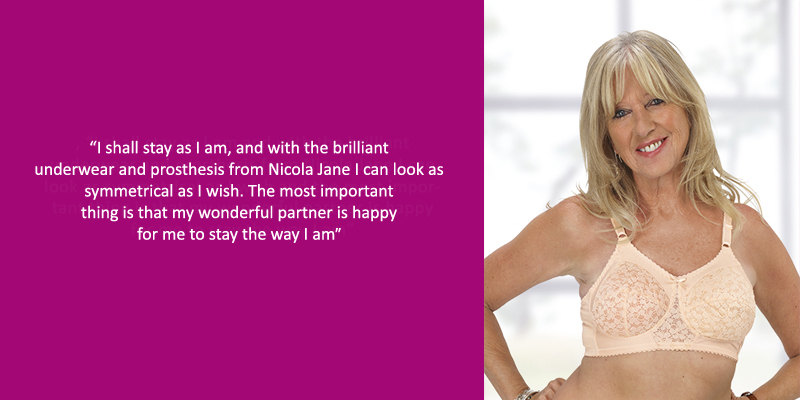 I was first diagnosed with breast cancer in 1991 when I was 42. I had a lumpectomy followed by radiotherapy and chemotherapy for 6 months. At the time my first thought was "am I going to die" which is I'm sure what most women first think. However, I was determined to be treated at a hospital near to my work so that I could go on to work after each radiotherapy session and carried on working through chemo to keep my life as normal as possible. My late husband was the first person I turned to but he found it increasing difficult to cope with and my two sisters were an enormous help and support. Unfortunately 2 years later some pre-cancerous cells were found in my other breast which meant I had a mastectomy with an implant immediately. I was very worried before surgery as to how I would look as at that time there were no photos to show me what it may look like and of course, no internet or google…..
However all was fine until 2010 when I was diagnosed with breast cancer once again following my routine mammogram. This time I had another mastectomy and an implant inserted but following several infections and because of previous radiotherapy on that side my skin was too thin to hold the implant and it was removed. I do have the option of fat from my tummy being made into a breast but so far I have not bothered to have more surgery as this would mean a long operation with no guarantee of permanent success.
So, I shall stay as I am and with the brilliant underwear and prosthesis from Nicola Jane I can look as symmetrical as I wish and the most important thing is that my wonderful partner is happy for me to stay the way I am.