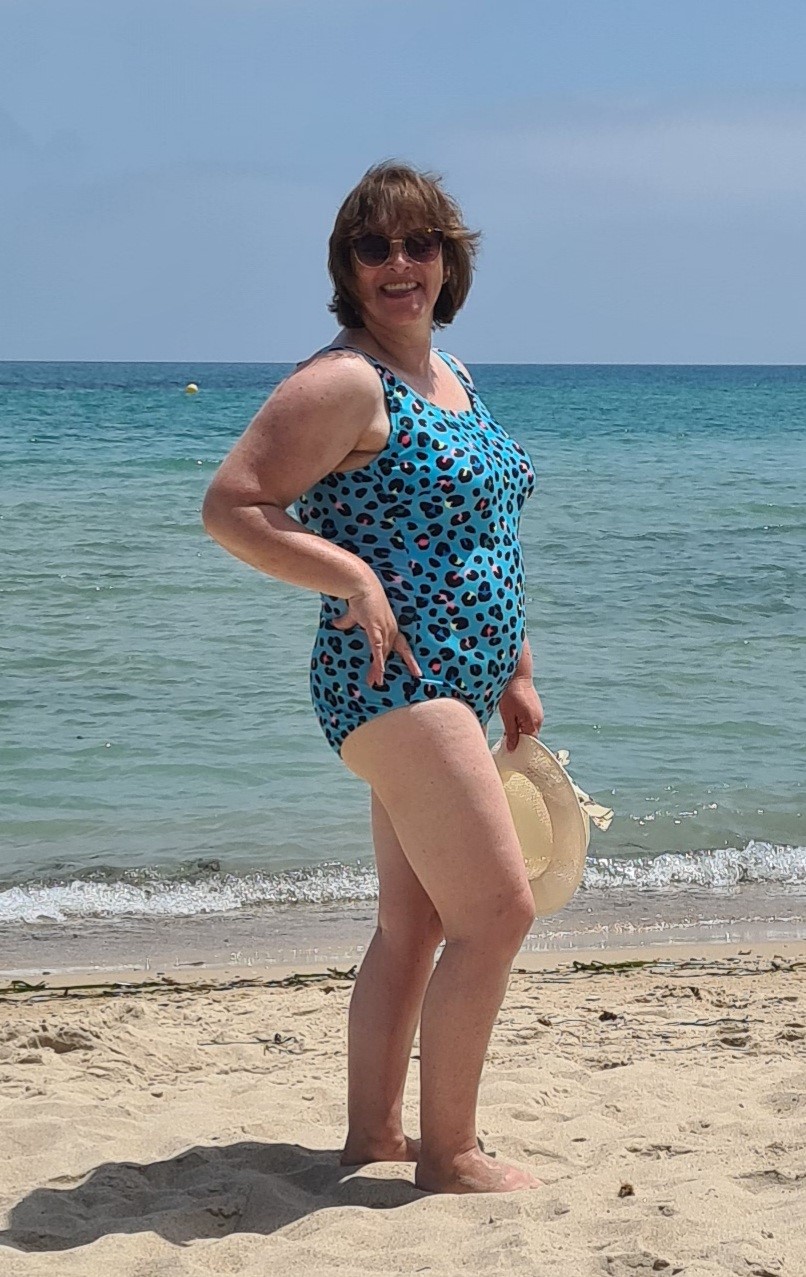 My life was just beginning…
My journey began in March 2020, I had just left a depressing marriage with my teenage children, and was feeling wonderful, as it had taken me a lot of time and effort to plan my exodus. I had a wonderful break away to Bruges the Christmas prior and life was looking very good.

How I was diagnosed
I had started a new job in September 2019 and that year I was called for a mammogram, but did not go as it would have entailed asking my new employer for time off work, so I cancelled it! In the January I started getting shooting pains in my right breast, but did not think much of it, however, the universe kept sending me massive signs! Every time I logged onto Facebook, opened a magazine, turned on the news, there was always something about Breast Cancer. So eventually, I did seek medical advice, and even though we had just gone into lockdown, my doctor saw me straight away and I was soon diagnosed with stage 3 breast cancer and lymph node cancer in April 2020.

Realisation and acceptance
Well, what an absolute shock this was! I felt that I was being punished in some way for having the audacity to put myself first for once… leaving an unhappy relationship, having stayed to bring up the kids etc. I felt that the whole situation was completely overwhelming. However, once I had got over the first hurdle of the operation, I received through my letterbox a local magazine and an article about the mayors charity, The Human Milk Foundation, which caught my eye. It spoke about how human milk could save premature babies lives and also about young mothers who had been diagnosed with breast cancer and could not naturally feed their babies. Well, I felt bad enough thinking about my life span being shortened with grown up children, how on earth must these young mothers feel! They were asking for help from the community, so I did not hesitate in picking up the phone.

Human spirit
From then on in, the lovely ladies at the charity included me within their small team and their continued positive attitudes to life rubbed off on me! As well as learning about all the amazing work that they do, I also learned that some mothers who had lost their babies, donated their milk to help other babies thrive. The human spirit is an absolutely amazing thing, and focusing my efforts on helping in some small way, I know this kept my spirits high. I found the strength to get through all my chemotherapy and radiotherapy treatment, and I continue to help today.

Feeling thankful
I am now two years down the line. Unfortunately, I had to have a second mastectomy as a precaution. Due to an infection following a reconstruction, I have made the decision to go without any further operations, as one needs to focus on life's blessings! I have two great children, good friends, a roof over my head, a life full of opportunities, and oh yes, one more thing… the universe has my back!