There isn't really a normal day for me, I prefer it that way, I don't like to plan things as much as I used to, I like to go with the flow, whatever I feel like. I have 4 dogs who I walk each day and I try to go to the gym every day too. I love variety and doing new things now. I love being outside regardless of the weather as much as possible.
If I could choose any profession I'd be a psychologist, which is what I'm about to be!
I walk my dogs, go to the gym as often as possible, usually 5 times a week, I travel a lot and love spending time with friends, I've realised recently quite how important that is. I'm having my first snowboarding lesson in 2 weeks to celebrate being 6 months post-surgery, if I enjoy it, will take it up regularly.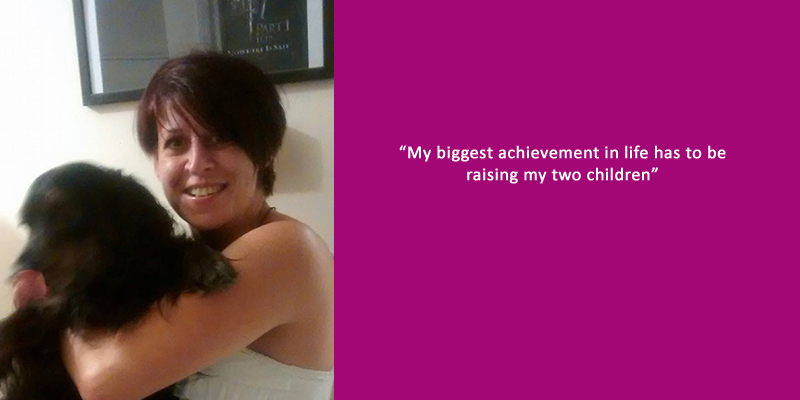 I have lots of things planned for 2016... I am going to Amsterdam, Venice and anywhere else I feel the urge to visit. I'm currently waiting to hear if I've got a place in the London marathon which will be taking place a year on from the day of my diagnosis. I also have a lot of decorating I intend to do, I bought my bungalow shortly before diagnosis and the decorating was put on hold while I recovered from surgery.
My biggest achievement in life has to be raising my two children.
If I were to describe myself in three words I would say; honest, positive, and unconventional.
did a lot of work on myself between diagnosis and surgery to ensure my attitude and body image weren't damaged by all that I was about to go through, had very positive results, I'm more confident now than I was before cancer.
I'm at my happiest when I'm with good friends and family.

Being a nicola Jane model has been confirmation to myself that getting breast cancer has made me stronger. Pre diagnosis, I absolutely wouldn't have done any modelling, I avoided the camera. I've done 3 modelling jobs since my surgery, that's enough now!
I became involved in wear testing when I was invited to while chatting to staff in your London store a few weeks post op when I bought my bikini.
Wearing Nicola Jane lingerie helps make me feel like the 'old'/ 'pre breast cancer' me, they have some ranges which are suitable for my age group, pretty but still cover my scars.
My favourite Nicola Jane item is my bikini, been wearing it several times a week since June and still looks great.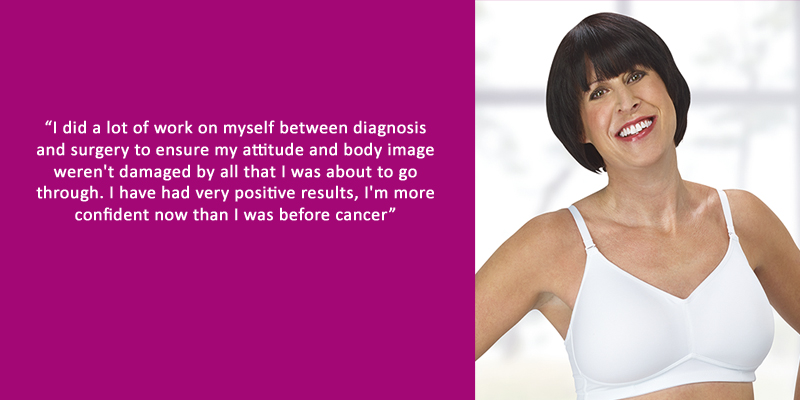 I decided to become a Nicola Jane model to show myself and younger women in my family, who may be affected by breast cancer in the future, that breast cancer doesn't defeat you, with the right attitude and support, it can be an opportunity for huge personal growth.
I shop with Nicola Jane because they have a good choice of products with the option to try on in store.
For me, the most important aspect of a post mastectomy bra is that it isn't dated in style, it is suitable for younger women and it covers my scars.
I had a bilateral mastectomy on 15th may 2015 and several ongoing hormonal drug treatments.
When I first found out, I was obviously in shock and if I'm honest, I was truly terrified for the first time in my life. I wish I knew then that I would be able to do this and come out the other side a happier person than I had been before. I wish I had known then it wouldn't be as hard as I anticipated, this is the message I really want to get out there for other ladies, it's really really tough but it's not as bad as we imagine at the beginning. The diagnosis truly is the hardest part. After that, your inner strength gradually rises and takes over. The initial fear was definitely the worst part for me.
My first thought/worry was the dread of having to tell my family and close friends, there is no gentle way to reveal that type of news and each time I told someone I felt their pain on top of my own. Fears about my own mortality came many days later.
I've always been fiercely independent and strong so i didn't initially turn to anyone, it wasn't in my nature then and even though I absolutely needed support for the first time in my life, I didn't know how to ask for it but some wonderful people stepped in and have been beside me every step of the way. I know for certain I wouldn't have come through it so strongly and positively without their love and support. It's a cliche but true, you never forget who was there for you in your darkest times.
Apart from keeping as physically active as surgery would allow, I switched to a vegetarian organic diet. Following diagnosis and prior to surgery, I had eft (emotional freedom technique) and some mediation. These helped to keep me calm and accept the changes my body was going to go through. Of course, humour, sometimes quite black humour, helped us through it all.
To other ladies I would say give as much attention to your emotional recovery as your physical one. Try to keep your humour, even on your darkest days.