Terrie, a Macmillan Support Worker at the Olive Tree centre on what the charity has to offer:
We have provided our services for over 20 years now and our aim is to encourage cancer patients and their support network to be proactive in their wellbeing. We believe everyone diagnosed with cancer should lead as healthy and active lives as possible. This means getting tailored care and support in a way and place that works for them to manage themselves.
The Olive Tree serves the communities of Crawley and Horsham plus surrounding areas and we have no boundaries as to where our people live. We are also proud that our work in the community was recognised in 2019 by The Crawley Community Awards in which our Centre Manager, Marilyn Drury won the Achievement Award. We were also finalists in the Best of Sussex Community Awards.
The main way we support people affected by cancer is through the provision of relevant information and complementary therapies. Accessible and accurate information is an important requirement for the quality of life, the right information at the right time can answer questions, reduce anxiety, help with confidence, decision making and avoid confusion. The Olive Tree allows people to gain information at their own pace whilst trying to remove the "where to look" factor.
We are relaxed, friendly, always helpful and supportive with the right mixture of efficiency, support, respect, fun and empathy. Over time The Olive Tree has developed its own branding organically as a caring centre with a unique atmosphere.
Complementary therapies:
Sometimes it might feel as though a doctor makes many of the decisions about treatment. It can feel like a person does not have much control over what happens to them. Complementary therapy lets people take a more active role in their treatment and recovery in partnership with their therapist. Complementary therapies are natural and non-toxic and can help control some symptoms of cancer and treatment side effects. For example, acupuncture can help to relieve sickness caused by some chemotherapy drugs and relieve pain after surgery. There is a lot of comfort and satisfaction from the touch, talk and time a complementary therapist offers.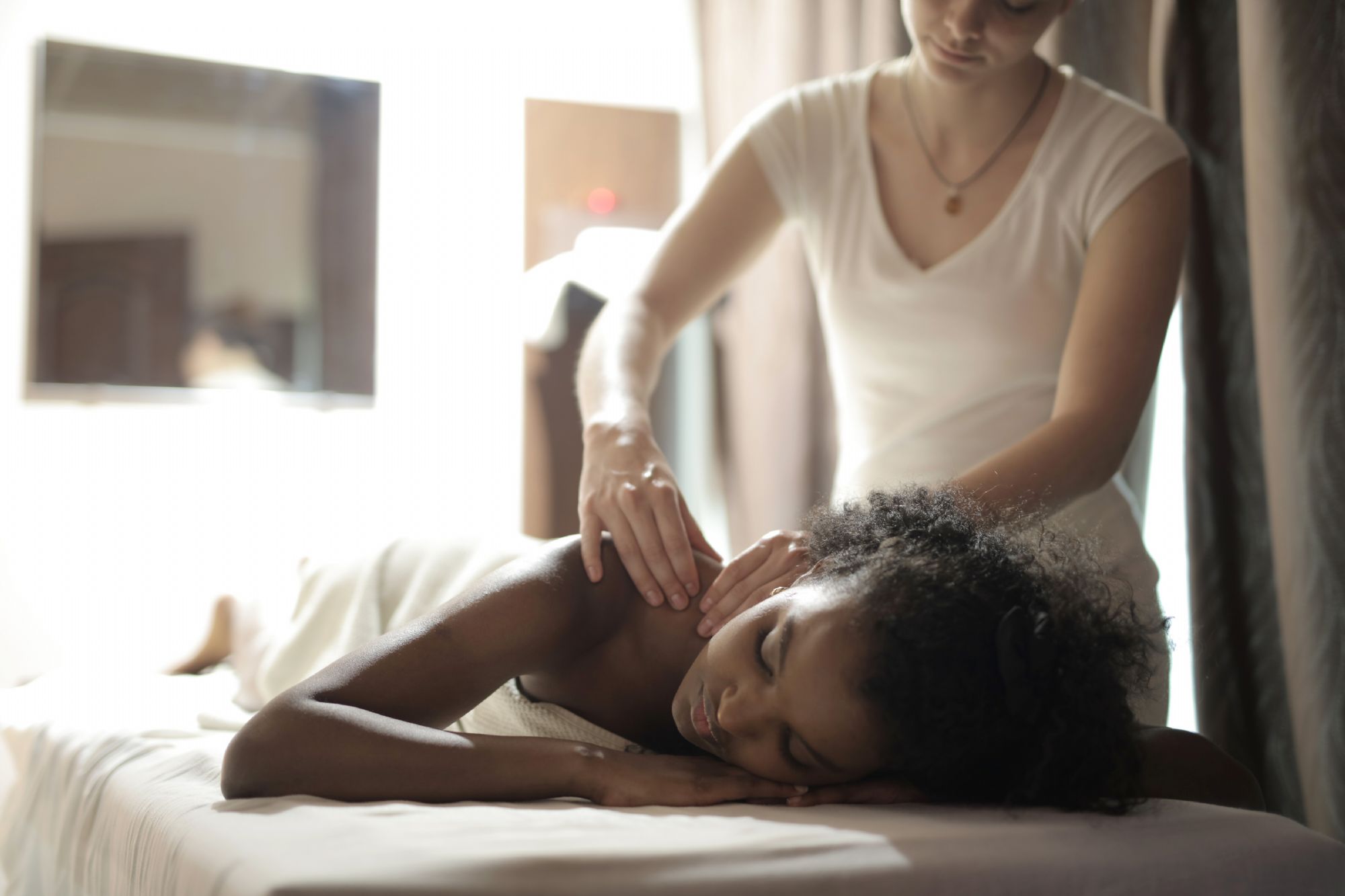 Complementary therapies are offered to anyone who visits the centre, both those with cancer and their supporters. These therapies complement orthodox cancer treatments and improve the quality of life by relieving stress and tension. They are based on the holistic principle that healing works on all levels: spiritual, mental, emotional and physical.
Acupuncture/Nada
The careful placement of fine needles into particular points on the body, regulates energy flow and restores natural balance.
Aromatherapy
Aromatherapy is gentle massage with essential oils of flowers, herbs, plants, trees or spices. Each oil has individual qualities that work towards restoring balance within the body and mind.
Bowen Technique
A gentle, holistic treatment that helps the body to balance and re-align itself on many levels. Light moves are applied to the body over clothing.
Cranio-Sacral Therapy
Cranio-Sacral therapy treats people rather than conditions. It is primarily concerned with establishing a balanced underlying state, which enables the body's own healing mechanisms to work at their optimum level.
Energy Healing
Healing works on the whole person, to balance the body, mind and spirit, promoting a feeling of deep relaxation and inner harmony.
Pranic Healing
A highly developed and tested system of energy treatment that uses Prana (life force) to balance, harmonize and transform the body's energy processes.
Indian Head Massage
Gentle massage of the head, neck and shoulders to aid relaxation, relieve stress and painful symptoms such as headache.
Massage
Massage eases muscular tension and anxiety increases circulation, stimulates the lymphatic system, and helps to break down scar tissue and eliminate toxins.
Reflexology
Reflexology involves gentle massage and pressure on the feet (or hands), which stimulates the body to heal itself, following stress, injury or disease.
Reiki
Reiki is an Eastern method of healing that dates back 3500 years. It is gentle and non-intrusive, using universal life energy to bring about deep relaxation and well-being.
Yoga (group sessions)
Yoga can strengthen the immune system and encourage our inner healing. It helps create harmony and balance on all levels of our being
Emotional Support Therapies
These therapeutic sessions are arranged on a referral basis through the Centre Manager.
Counselling
Counselling offers time and space for people to find their own solutions to difficulties, and a way through a crisis and beyond.
Coaching
An active, participatory process with a coach can help rebuild self -confidence, take control of your life and make different and better choices for the future
Emotional Freedom Technique (EFT)
EFT is a powerful therapy that is able to rapidly reduce the emotional impact of memories and incidents that trigger emotional distress.
Hypnotherapy
A safe way of connecting with the sub conscious mind in order to bring about changes in the way we think and behave.
Therapeutic art
Art is a powerful, non-verbal medium, enabling us to explore difficult, painful or confusing feelings in a safe environment, but also to express positive emotions and enjoy colours and shapes.
The Pink Ribbon Programme
A therapeutic exercise programme developed by a breast cancer patient for other breast cancer patients to help regain mobility and improve quality of life.
Our wig and headscarf fitting service:
If you are in need of a wig or head covering, please come and see us at The Olive Tree Crawley we have a really good selection of new and recycled wigs of all colours all lengths and styles. Our team will help you with the fitting and styling of your new wig. We have also got a selection of head coverings such as scarves and hats for you to choose from. We do not charge for this service but do ask for a donation towards the running of the Olive Tree Centre.
Head Wrappers Workshops
We also offer workshops on scarf tying techniques as well as hair and scalp care. This workshop also covers any concerns over hair loss during treatment and aims to help you feel more confident when coping with hair loss. All participants receive a free headscarf.
These workshops are running throughout the year at our Crawley and Horsham centres. To see when our next one is please ring us on 01293 534465.
How to get involved
The local community and users of the centre are vital to the services we provide. Our members have the opportunity to talk to those who are experiencing similar feelings and emotions. Being affected by cancer tends to bring personal life into sharp focus and shifts perspective for others. Many patients go on to change aspects of their lives and become more aware of their environment e.g. changing to organic produce, using environmentally friendly household products and joining the Walk Fit groups around our lovely local parks. Our experience has been that those who have benefited from our service have come back to volunteer.
We currently have a team of over 85 volunteers that assist with the day to day running of the centre and information hub, they are involved in everything we do: secretarial and administration work, accounting and payroll, client initial interviews, therapists, event organisation and fundraisers. We are always open to new ideas and suggestions and volunteers to help with these.
Volunteers play a huge part in our fundraising efforts. They become involved by helping us to run and organise community events, by payroll giving, by organising team fundraising at their places of work, gifts in kind.
The Olive Tree Cancer Support Centre
Crawley Hospital, Crawley
West Sussex, RH11 7DH
01293 534465/01403 627424
office@olivetreecancersupport.org.uk
/
horsham@olivetreecancersupport.org.uk