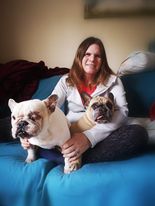 A bit about Debbie:
My name is Debbie. I'm 39, and I live in the New Forest with my husband, two children and our French bulldogs. As a family, we love walking and being outside and exploring the New Forest and the beautiful beaches on the South Coast.
The Diagnosis …
In December 2013, I was seven months pregnant with my second child. Tired, I went to bed early, and as I tried to get comfy with my big baby bump, I rested my hand under my breast, that is when I felt a lump. I was sure it was just a blocked milk duct as I had only just stopped breastfeeding my daughter.
My husband encouraged me to book a doctor's appointment, so the next day I made the appointment. I went to the GP who had a look and checked the lump and then she referred me to the hospital for a biopsy on New Year's Eve.
In the middle of January 2014, we went to the Southampton hospital to get my results, and I was diagnosed with breast cancer and would need a lumpectomy. I was eight months pregnant, and before any treatment could begin I needed to give birth, so after a scan to check the baby was ok I was booked in 2 weeks before the due date to give birth.
Letting it sink in
My husband and I drove home in a state of shock. The first thing I did when we got back home was to give my 2-year-old daughter a big hug. I was only 32, and no one we knew had been through breast cancer, and breast cancer did not run in my family. We first told my parents, my brother, our close friends as well as friends I see weekly. The friends I see weekly I remember sending them a message saying please do not treat me any different I am the same person as day before. However, some friends found it hard and did not know what to say to me. The week before I gave birth to my son, I lost my voice through shock.
Preparing for the Op
Once I had given birth to my son at the end of January, I was given a week before my lumpectomy operation. During that week of waiting, I had so much anxiety I lost my appetite.
I went in for the lumpectomy at the same time they removed some lymph nodes. The following day after the operation, I learnt that there were no cancerous cells, and it had not spread, which was a relief.
Chemotherapy
My chemotherapy started in March 2014. I was not worried about the treatment I was more concerned about losing my hair, I, however, opted for the cold cap.
The cold cap was uncomfortable, but it worked for me, and I only suffered a small amount of hair thinning on the top of my head. My husband sat with me every chemo session to keep me company.
My parents helped with childcare and looked after us, and we stayed with them at the weekend so they could do the night feeds with my baby whilst I rested. The radiotherapy treatment was quick; nevertheless, I felt this took the most out of me as it was every day for two weeks. After radiotherapy, I had to have injections every three weeks, but thankfully the nurse would come to my house.
The future
I still go to the hospital every year for a mammogram and take pills every day.
My daughter is now eight while my son is now 6. My daughter knows I went to the hospital quite a bit when she was little; however, she does not know why.
One day when the time is right, and I feel ready, I will explain it all to my children. In the meantime, I am grateful to my parents and friends, for all the support they have shown us.
Support Groups and Charities
My husband was overwhelmed with my diagnosis. To help, he spent time with the MacMillan Cancer Trust, at Southampton Hospital. He said that they were extremely supportive and helped him to put his mind at ease.
I attended a 'Look Good Feel Better' course at Southampton hospital. It was so nice meeting other people who were at all different stages of cancer and learning how to apply make-up.
We also made use of the Wessex Cancer Trust who own a caravan at Weymouth holiday park. This holiday is a lovely idea to give families a break following a cancer diagnosis.
Our Designer's Top 3 Product Picks for Debbie:
The Delilah Bralette by AnaOno - This is a super-soft bralette, made from a modabl fabric that is extremely soft against the skin, ideal for women that recently had a surgery or radiotherapy.
The Silicone Bust Shapers - These are an ideal and affordable solution for women that have had a lumpectomy and would like to even out their bust shape.
The Tokyo Ultimate High Neck Bikini - We think Debbie would look gorgeous in our vibrant Tokyo bikini featuring a high mesh neckline, hiding any scars or indentations, and pockets to hold the bust shapers if needed.