My name is Jenny. I have just turned 55 and I have three children aged 14, 19 and 22. If I had to describe myself I would say I'm resilient and practical - with a can-do attitude. I enjoy gardening, walking our pet cocker spaniel and keeping fit with both Zumba and ballet.
I work full time in local government, so a normal day for me starts with a 5.30am wake-up call and a 7am start. I used to have a small holding so part of my routine until very recently involved feeding pet pigs, sheep and alpacas, before going off to work. I enjoy my job but if I could choose any profession it would have to be something outdoors where I could have my dog with me.
I have recently got divorced and will be moving in to my own home in a few weeks. So my plan for 2018 is to enjoy my new home, learn to relax, slow down and do more fun activities. I would say my biggest achievement in life to date is bringing up my children in challenging circumstances.
I was diagnosed with breast cancer in January 2014, aged 51. Following this I had a right mastectomy. When I found out my first thought was that it was another thing I had to deal with… "How am I going to look after the children and the animals?" Before I told my children, I chose to tell my best friends as I didn't want to worry them with something else. During my treatment I found having a routine helped, for me that involved feeding the animals and taking slow walks with the dog. Having been through my own personal journey with breast cancer I now try to put life into perspective and prioritise what's important to me and my family. For anyone reading my story, going through their own experience my advice would be to KEEP GOING!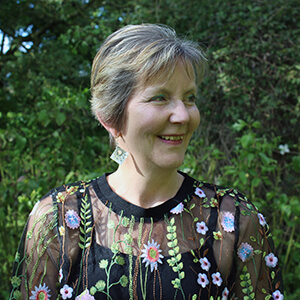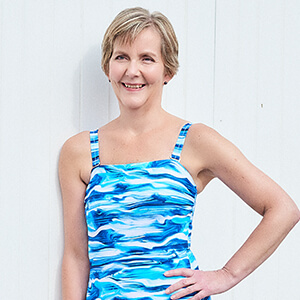 Wearing Nicola Jane lingerie has helped me to feel much more confident after my surgery. When purchasing a new mastectomy bra I find the most important aspects are: that it is comfortable and that it fits well in all areas, it is important to me that the style I choose gives me an even shape. One of my favourite Nicola Jane pieces is a swimsuit I recently bought, I find that I now require a swimwear piece with a higher front due to the severity of my surgery and no longer having a cleavage.
Having experienced a number of personal challenges over the last few years I decided to apply to become a Nicola Jane Inspirational Woman as I now never turn away an opportunity to do something different. You only get one chance in life – make the most of it!
What do you do to relieve stress?
Walk the dog!
Favourite online shop?
Amazon
Favourite food?
Fruit
Your beauty fail safe?
Lipstick
I couldn't live without...
My Kindle
Guilty pleasure?
Chocolate
Who are your 5 dream dinner party guests (dead or alive)?
David Attenborough, Florence Nightingale, Marie Curie, Daniel Craig and Harrison Ford