Tell us a bit about yourself:
I'm Tara, I live in Shropshire with my husband Dave and our cute little dog, a GSP called Mya who we rescued from Hungary. I work in Marketing for Fanatical, a digital entertainment retailer, looking after affiliate and influencer partnerships. I'm 36 now, but had just turned 35 when I was diagnosed with breast cancer in September 2019 (on my gorgeous little nephew's birthday).
I love spending time outdoors walking, hiking, mountain biking, or just sitting in the garden with a gin! I'm a bit of a coffee snob at heart (no instant coffee for me, thanks!) and I love good food and wine - going out for dinner or entertaining at home is my absolute fave. I'm a big music fan and enjoy going out to watch live music whenever I can (I've really missed it during the pandemic), but I'm equally happy to be snuggled up at home watching Netflix.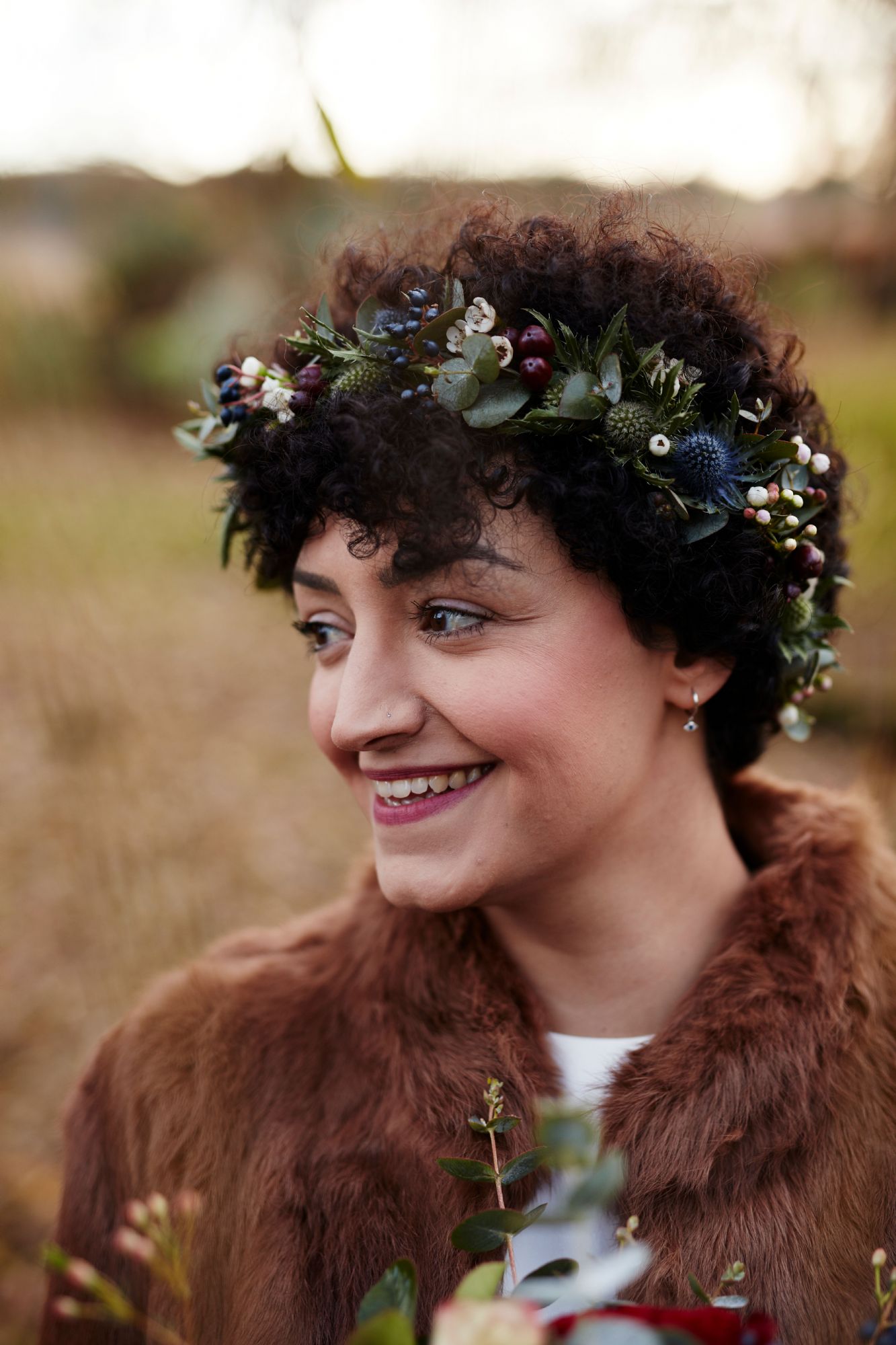 Tell us about your diagnosis:
One evening I felt a throbbing pain in my right breast, when I touched the area to investigate it, it felt quite hot and hard to the touch. I was convinced it wouldn't be anything serious, as I'd never heard of pain being associated with breast cancer?! I kept an eye on it for a few days and even though the initial intense, throbbing pain had eased, I could still feel the hardened area, so I booked in with my GP to get it checked out. The doctor wasn't that worried, but referred me to the breast clinic at the hospital just to be on the safe side anyway and also because there is a history of breast cancer in my family.
My appointment came through quickly and I was seen within a couple of weeks. On the day of the tests at the breast clinic, I had an initial ultrasound and was advised that it did look a bit worrying and further tests would be needed whilst I was there (a mammogram followed by biopsies). I had attended my appointment alone and had driven myself to the hospital that day. I remember asking whether I would be okay to drive home after the biopsies. I was fine to drive, but it was very sore and really hurt to move my right arm driving home following a biopsy in the armpit to check my lymph nodes - ouch! It is all a bit of a blur, but I remember this sinking feeling that afternoon that it was going to end up being cancer. I think I was just on auto-pilot when I was in the breast clinic, trying to hold it all together and get through it, but I was a mess when I got back to my car. Everything that had happened in the last couple of hours just hit me all at once and I was hysterical. I called Dave sobbing, then ugly cried down the phone the whole way home.
A couple of weeks later I was back in the clinic, with Dave by my side, to receive my results. I think I had already mentally prepared myself to receive the worst news. We squeezed each other's hand so tight as the consultant said, "it is cancer" and we both sat there a bit stunned and wide-eyed. Numb is the best way I can describe it. Perhaps I was in shock? It was almost like the news was so overwhelming that my brain didn't know what to do with the information, so it did nothing and I was just sat there, blank and expressionless. Totally void of any emotion.
From the hospital, we went straight to visit my parents to let them know what was happening. I hadn't even mentioned about finding the lump or my GP referral because I didn't want to cause any unnecessary worry, given the family history. I was dreading telling my family and upsetting them so much. Over the next couple of days, I called my closest friends and told them too – explaining everything to people was horrendous, probably because it started to make it all seem so much more real. If I could have got away without mentioning it to anyone, I would have! That was how I felt back then, although I do feel much more open about it now that I've had time to get my head around it all and I really hope sharing my story might help someone else going through the same.
The time after the diagnosis, letting the news sink in and the treatment:
Dave and I agreed we wanted to go through IVF fertility preservation, which was offered to us due to my age and because we haven't started a family yet. It was like a fast-track process and all completed within a few weeks before I started chemotherapy. We weren't ready to have children, but hadn't ruled it out completely either, so it was strange to have the decision whether to have kids or not suddenly forced upon you and under these strained circumstances. Although going through the fertility preservation definitely did provide some comfort and reassurance for our future, should we ever decide we do want to start a family. There are still so many unknowns, we don't know whether my fertility has even been impacted, or if we go down the IVF route whether it will actually be successful, but at least it is a possibility for us to explore later down the line.
My cancer was classed as triple positive and had spread to the lymph nodes, I was diagnosed as Stage T3 N1. Stage T3 means the tumour was bigger than 5cm and N1 indicates cancer cells had spread to the nodes. I had chemotherapy and targeted therapy first to try and shrink the tumour and prevent any further spread, followed by surgery (a single mastectomy and axillary node clearance), followed by radiotherapy. I'll also be on hormone suppression medication for five years now too, to help prevent any recurrence.
I finished chemo just as we went into the first lockdown back in March 2020. There was a short delay as the hospital's figured out how to treat patients safely during the pandemic, but I was soon booked in for my operation. It ended up taking place at a private hospital and of course, I had to take a Covid test before I was admitted. I am so grateful and feel very fortunate that my treatment continued as planned throughout the pandemic.
In my initial surgery consultation, we had discussed a breast-conserving surgery called a therapeutic mammoplasty, but as I had responded so well to chemo the cancer cells were very difficult to detect, so a mastectomy was the safest option. This would ensure all evidence of cancer was removed, preventing the need for any further surgery if there was any residual disease left. As it turned out, all cosmetic/plastics procedures ended up being paused due to the pandemic, so I wouldn't have been able to have the mammoplasty anyway.
I think the best advice I have regarding surgery is to make sure you have front-fastening pyjamas, in addition to front-fastening tops. I'd treated myself to some lovely button up pyjamas, but I had to leave the hospital in my pyjama top as I didn't have a normal top – what an oversight! Luckily, I hadn't actually worn it, as I was in my hospital gown the whole time during my overnight stay. My other tip would be to confront your post-surgery body straight away. As soon as I came round from the anaesthetic, I pulled my gown forward and looked down. I didn't burst into tears like I thought I would. I felt relieved the cancer was gone, proud my body had endured the surgery and grateful to have woken up again. I think practising this gratitude for your body, for just keeping going and carrying you through this, is so important.
This is also a good time to be extra kind to yourself, allow yourself plenty of time to rest and heal, ramp up your self-care and don't be afraid to ask for help, or whatever you need to help you need to get through it. I lived a very fast-paced life, also rushing around and trying to spin too many plates before my diagnosis and it really forced me to slow down and admit I should prioritise rest and relaxation more.
Use your support network and be specific with how people can help, to take the pressure off yourself. When attending appointments, take a notebook and go prepared with your questions. I found the appointments extremely intense and overwhelming, there is such a lot of information to absorb and I always felt so drained afterwards. I quickly learnt to keep something in my bag to give me a little boost when I came out, like a flask of coffee or a chocolate bar. That's my pro-tip, carry snacks!
I also think it helped me to accept what was happening - focusing on what I could control, rather than what I couldn't, felt like a good coping strategy for me. I couldn't change what was happening to me, but I could change how I responded to it. Knowing what works for you personally makes a huge difference though, there's no one size fits all when you're navigating this and there is no right or wrong. All feelings are valid and I think it's really healthy to embrace all emotions and to fully accept you're going to have some bad days, you're only human!
The future
Shortly after my diagnosis, Dave and I decided to get married as soon as we could. We had a very small, intimate ceremony two weeks after my first round of chemo in December 2019, I still had all my own hair at that point, which I was so pleased about. Our plan was to hold a big wedding reception the following year, but Covid-19 had other plans! So next on our to do list is a little getaway (as soon as is safely possible) to celebrate the end of my active treatment and then hopefully we can start to organise our wedding party.
Is there anything you wish you had known before your diagnosis?
Before my diagnosis, I wish I had known about Coppafeel and had been more breast aware, they have some amazing guides on how to check your breasts and the signs and symptoms to keep a look out for. I really should have been more vigilant with knowing my normal and checking myself regularly, especially given my family history. I am so happy that my body gave me a sign when it did (thanks bod)!
I also never imagined I would meet so many other amazing women in the same position as me, younger women battling breast cancer, undergoing fertility preservation, chemo, mastectomies and other surgeries, medical menopause. I've made some incredible friends through Instagram, I started an online journal there, which has been a cathartic process anyway, but connecting with other young women who have also undergone treatment for breast cancer and sharing our experiences has made a huge difference to me personally. I've felt so supported by other women who can really relate to what I'm going through and I feel like I've made some great friends for life – which is one of the more positive sides of this and there definitely are some positives from it too.
My perspective has changed completely, I feel so much more grateful and appreciative of the smallest, trivial things now, things I definitely took for granted before such as being able to exercise, walk my dog, have the energy to stand for more than half an hour to cook a meal – the list goes on!
I attended an event with Breast Cancer Now back in February 2019 too, which was an amazing experience and I met so many other women who inspired me so much that day. The charity does so much within the breast cancer community and dedicate funds towards all-important research too.
Do you have a favourite Nicola Jane product?
I was really pleased to find an affordable swim/waterproof prosthesis from Nicola Jane (
Featherweight - Foam Swim Breast Form
), perfect for jumping in the hot tub on a weekend getaway! I also really like the vest top with built in bra and prosthesis pocket (
Poppy 95% Cotton Fitted Strappy Top
). I didn't think I would feel comfortable wearing strappy vest tops anymore, so this was a great find. It has got a nice high neckline, so I feel super comfortable and confident that my prosthesis is secure, plus the design makes it look a bit more interesting than a plain black vest top.
The reason you have decided to share your story:
I hope that by sharing my story, any other younger ladies who are diagnosed with breast cancer will feel less isolated and alone. I know at the beginning of my diagnosis, I felt that women my age were massively underrepresented in all of the hospital leaflets and brochures you receive and being the only young person at the chemo unit only emphasised that feeling for me too. So I'm also really happy Nicola Jane are allowing me to be a part of this to help change that in future for other women in my position as well.
Please feel free to get in touch if you would like to chat about any of my experience or you're going through the same and need a friend @nottodaycancernottoday on Instagram.
Make sure you look in the mirror, take a deep breath and tell yourself how amazing you are!