Post-Surgery Bra Fitting Guide
With 80% of women wearing the wrong bra size our aim is to help you feel comfortable and supported in your bra all-day long. It's really important to get a professional fitting when you can however we know it's not always possible to get to a store or a fitting clinic so have put together our years of bra fitting experience for you into one place. Remember all of our Nicola Jane team are fully trained, certified bra and breast form fitters and just a phone call away should you get stuck. Call us on 01243 537300.

Watch our helpful 'Guide to the Perfect Fit' video here

Please note - we recommend waiting until 6 weeks after surgery for a bra fitting as this allows time for you to heal and any swelling to go down.
In this guide, we will cover:
---

What is a Perfect Fit?
At Nicola Jane, we don't need to use a tape measure to find your ideal size. We can use the fit of your current bra and work back from there.
What does the perfect bra fit look like?
The band is snug and even all the way round the body.
The straps are not digging in or falling off the shoulders.
The cup is smooth and encasing the whole breast and/or breast form and the centre front in against the body as much as possible.
---

Common Fitting Problems

The Band
The band is arguably the most fundamental element of getting the right fit. It provides 80% of the support when fitted correctly, so it's important for it to not be too loose yet not too tight so you cannot breathe! It should fit snugly around the narrowest part of your back and be of equal height all the way round, allowing room for just two fingers under the band. If you can pull the bra out any further than this the band is too big, and you need to try the next size down.
When the band is too loose, it will 'ride-up', creating a rainbow shape on your back. It is tempting then to overtighten your straps to get the support right, but when the band is snug enough it will comfortably stay in place and reduce tension on the shoulder straps. If the band is too loose on the bra you are wearing, your breast may spill under the band when you lift your arms over your head.
We recommend fitting the bra on the middle hook of the fastener. This allows you to have room to loosen off as you 'expand' through the day or at different times of the month. It also allows you to have room to tighten as the bra wears and starts to lose elasticity. Check the band is tight enough by raising your arms. The band should have very little to no movement and stay in place.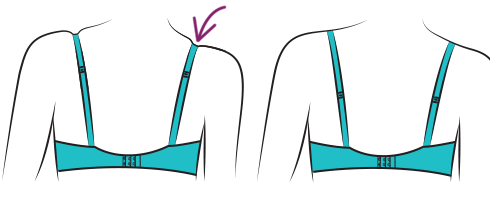 When you are confident that the band size is correct, the straps will only provide 20% of the support. You should adjust them to a position where they are not falling off your shoulders but also not too tight that they are digging and creating a red mark on your back. Please note that some bras are sent to you with the straps fully adjusted. Make sure you ease them off into a comfortable position for you.
If the straps are falling off the shoulders they may be too loose, try tightening them avoiding overtightening. They may also be too wide-set for you. First, check that the band is snug enough as a band that is too wide equals too wide straps, or it may simply be the style of the bra. Try a bra with more set-in straps.
We also suggest that you check the adjustment regualry, as washing and wearing can cause them to loosen off.

Your breasts and breast forms should be fully covered by the cup, at the sides, top and bottom – unless you do not wear a breast form and have chosen a plunge or half cupped bra where the cup will only cover half the breast.

There should be no wrinkling or excess fabric as this means the cup is too big and you may want to try the next size down. Equally, there should be a smooth line at the top of the cup and your breasts or breast form should not spill over the top or side. If this is the case the cup is too small and you need to try the next size up.

The centre front (gore) should sit between your breasts as best as possible. This is more achievable if you are wearing an underwired bra or a good fitting soft cupped bra. The band should not be pulling away from your body and you should not have a gap between the centre of your bra and your body. If there is a gap, the cup is too small and your breasts are pushing the band away - try the next size up.
If you wear a breast form, it is important to make sure you are fitting the bra and the cup to your natural breast side and not the breast form side. Your natural breast will change size due to weight loss or gain so if this is the case, we would advise changing the breast form to balance these changes.
No Bra To Check Against?
If you haven't worn a bra in a while and don't have one that we can use as a starting point we will ask you to take two measurements – the under bust and over bust.

Under bust - Measure under your bust, all the way round. It is important that this measurement is pulled snuggly as this is the number we will use for the band.

Over bust - Measure over your fullest part of your natural breast from the centre of your back around to the middle of your bust. Once you have these measurements, we would ask you to call so we can advise you of a suggested size.

This is very much a starting point as using a tape measure is not ideal and allows room for error, but it will give us an idea as to what size to recommend. And our free returns allow us to keep trying sizes until we get it right.
---


Other Useful Tips