"Shifting my perspective to see breast cancer as an opportunity for growth has impacted my healing positively."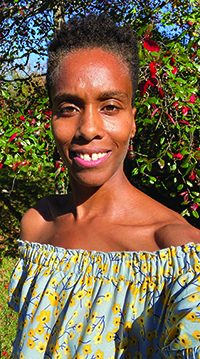 Niya, 33, is a home-schooling mother of two, tapdancing teacher and advocate for breast cancer patients. Hard-working, passionate and creative, she also loves to explore nature, travel, dance, and paint 'in her spare time'.
"I felt a small lump when nursing my son, but ignored it for several months because I thought it was nothing more than a clogged milk duct. On a routine visit to see my doctor, I told her about it, and she referred me to a breast cancer centre for an ultrasound. A fortnight later, I found out I was pregnant and it was confirmed I had breast cancer two weeks after that.
I was diagnosed with ER/PR+, grade III, stage IIB Invasive Ductal Carcinoma on my 31st birthday. Even though I was scared and confused, both my oncologist and breast cancer surgeon provided me with huge reassurance whilst talking me through my diagnosis, and explaining my treatment plan. My oncologist repeatedly reassured me that it was her primary goal to keep me and my baby healthy, and that gave me a huge sense of hope which I clung onto throughout my pregnancy.
As you can imagine, there was a lot to process. I was devastated to learn that I would not be able to breastfeed when my baby was born. I was only 31, not the typical age of women you see in cancer centres, and I was pregnant. I could not understand why a time of such celebration should become one of such darkness. It just did not seem fair.
Treatment began the following month with a unilateral mastectomy, followed by four rounds of AC chemo. I took a two and half month break from treatment to deliver my daughter, and then I continued with four rounds of Taxol. I finished my treatment plan a year later with 30-something rounds of radiation.
I created a journal on Instagram to share my experience. This was one of the best decisions I have ever made, because it connected me with lots of amazing young women with breast cancer. These strangers encouraged me and provided advice – but most importantly of all, they let me know I was not alone. They breathed life back into me.
I came across 'For the Breast of Us' on Instagram. During treatment, I attended their support group and became one of their Baddie Ambassadors (as we breast cancer survivors/thrivers are fondly named!). I love 'For the Breast of Us', because the community empowers, inspires and educates women of colour with breast cancer.

When my daughter was born, I was delighted to find out that my oncologist gave me the green light to breastfeed my daughter for six weeks. I was given donor breast milk to supplement what I could not provide naturally. I am so incredibly grateful to those wonderful women who helped me to feed my daughter.
Before my diagnosis, I wish l had loved myself more. I believe our bodies warn us when we are not making the best decisions. My body gave me lots of red flags, but I ignored them all – until, finally, breast cancer forced me into a corner so I had to make better decisions.
My advice to women going through breast cancer is to slow down. Take care of yourself and lean on your community. If you are pregnant, you should still try to enjoy the experience as much as possible. I believe that it is better for both you and your child to do so.
Shifting my perspective to see breast cancer as an opportunity for growth has impacted my healing positively. Hearing

"

you have breast cancer" did not end my life; in fact, the reverse turned out to be true – I now lead a wonderfully rich and meaningful life. Life really is what you make of it.
It seems there is much hope to be found, even when you might expect it least… if you would like to share your story with others, please let us know. We would love to hear from you.