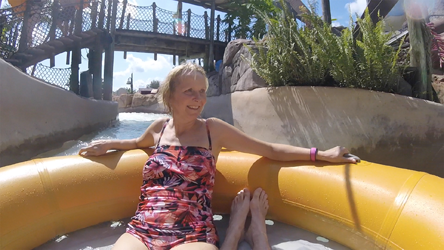 Hello, I'm Tracey, I am 54 years old and live with my husband in West Sussex. I have always had an active lifestyle and would regularly go swimming at least three times a week.
I was diagnosed with breast cancer in June 2014 a few weeks before our dream holiday to Florida, which unfortunately we then had to cancel. Following my diagnosis I had a mastectomy of the right breast followed by six cycles of chemotherapy and 15 treatments of radiotherapy. I lost all my hair and I couldn't carry on with my swimming because of the risk of infection, I also had a PIC line.
After completing my treatment I visited the
Nicola Jane Chichester Shop
where I was guided through the product range by the extremely helpful Customer Service Assistants. I had a good look around the shop and was pleased to see that there were a lot of swimwear styles to choose from, which were all very flattering.
Initially, I just wanted a swimsuit for regular exercise to get me back exercising after 7 months away from the pool. I chose a plain black, pockected chlorine resistant swimsuit as I just wanted it for general swimming at my health club. The Assistant suggested that I also try the Trulife
Active Flow
beaded style prosthesis as she said it gave a natural look and the water would easily drain when I got out of the pool which it certainly did, the water from it just disappeared!
In September 2016 we finally went on our dream holiday to Florida. I chose the Tahiti Sunrise and Santorini Bandeau Swimsuit. I can honestly say that these mastectomy swimsuits and the Trulife Active Flow Swim Prosthesis were amazing! We visited several waterparks and I did not hesitate to go on any of the rides or the wave pools. The prosthesis stayed in the right place and I didn't once feel self-conscious because of how well my swimsuit fitted.
The prosthesis is very comfortable to wear and looks like a natural breast, it doesn't lose its shape and dries quickly after use. My swimsuits were very colourful and had a good neckline - not to low and not too high. The banding on the neckline is quite strong and really holds the prosthesis in place.
Ladies, please don't worry… a visit to Nicola Jane offers excellent advice and Customer Service. My swimwear was used in two different water-based activities, one for general swimming and one on our dream holiday where I was not going to miss out on the fun at the waterparks.
I am so glad I chose a Nicola Jane Swimsuit as it felt confident and comfortable, no one would ever know that it was not a regular line of swimwear. Who wants to sit things out when you can carry on enjoying the things you love and enjoy the most?