I started running nearly 20 years ago because I knew I needed to do some exercise. I kept it up because I found that it gave me so many benefits – better mental health, the opportunity to push myself and achieve new things, a community to belong to in my running club and lots of good friends. But over the last couple of years I have discovered another dimension to running, as a source of life and healing through my treatment for cancer.
Just before my 50th birthday I found a lump in my breast; a month later it was confirmed that I had breast cancer…
You don't need me to tell you that a cancer diagnosis is terrifying, particularly at first when you don't know any details and it's very easy to imagine the worst. I didn't tell many people straight away because I wanted to wait until I knew exactly what treatment I needed, but that meant I was having to hide what I was feeling from work colleagues and friends. I felt like I'd been shifted into a parallel world where everyone else was carrying on as normal, but I was watching from a distance, unsure about what I could depend on any more. I had thought I was fit and healthy; I was wrong. I was losing my routine, the plans I had made for the year and I felt like my very identity was disappearing. Somehow I knew that I needed to keep on running, and in those early days of my diagnosis my runs were a welcome space where I could start to process what was happening to me. I would set out from home, my mind an anxious tangle of thoughts and I would arrive back at home feeling calmer and thinking, "I can do this".
Gradually a treatment plan emerged. I would need to have chemotherapy first to shrink the tumour and I went to see my oncologist with one main question – can I keep running through my treatment? He said that no one had ever asked him that before but he didn't see why not. It turned out that he was a marathon runner too. In between telling me all the worst side-effects of chemo, he sang the praises of German marathons and told me I should do Berlin next. And he also gave me an 18-week plan for chemotherapy - six treatments, three weeks apart with difficult weeks when the drugs would kick in and hopefully an easier week before the next treatment.
I ran to my first chemotherapy appointment, seven miles along the river from Kew Bridge to Hammersmith because I was feeling fit and healthy. Having chemo was like taking a prolonged dive underwater; I felt weak and ill, and cut off from normality. Ten days later when I started to feel a bit more like myself again, I did a shaky couple of miles around the common to see whether I could still run. It was hesitant and slow, but it felt fantastic. Over the next week I gradually built up the distance I could run, and ran to my second chemo session with my friend Lucy. I set off weighed down with sorrow and anxiety; I arrived at the hospital having run through sunshine with great conversation, feeling liberated and ready for what was ahead. I resolved to run to all my chemo sessions if I could. Even if I got the Underground most of the way and only jogged the last few hundred metres, I wanted to keep running to my appointments and arrive at the hospital in my trainers and on my terms.
I also
blogged
about my experience, and discovered that there is a wonderful community of women online who are doing the same. I found writing helped me to process my thoughts and work out what I was feeling. I would write in a journal every day and then post a more refined version on my blog from time to time. It enabled me to keep my friends up to date with what was happening to me, and also gave them an opportunity to express love and support. I was overwhelmed with all the messages I got every time I blogged. Several people encouraged me to write a book and so that's what I did, finding a wonderful publisher,
Pitch Publishing
, who have been really supportive. I used my blog posts as a foundation and re-read all my journals. Writing the book was actually very therapeutic, helping me to revisit all that had happened to me and process it some more. And it includes my visit to the
Nicola Jane shop in London
, where I sobbed with relief on the lovely assistants when they found me a bra that fitted!
It's been wonderful to find out that the book is really helping people. Last week at parkrun a friend confided that her mum has just been diagnosed with cancer and that she is reading the book and finding it really helpful. I recently got a message via
Twitter
from someone who is having chemo at the moment. She said, 'I just want to thank you and say how helpful it has been to read of your experiences - I didn't get my second chemo session yesterday because of a low white blood cell count and I've not been in a good place mentally for the last 24 hours - but I've just read the final chapter and your words on choosing hope...so I'm going to try to hold on to that!'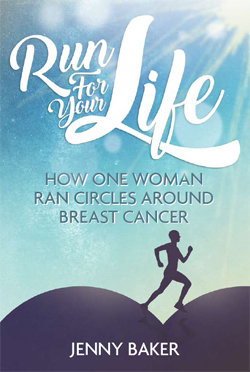 When you find out you have cancer, you don't get given a manual on how to cope with it, and everyone needs to find their own way through it. Cancer and its treatment is so varied and people respond very differently to what is done to them. What I did won't suit everyone, but I want people to realise that there is no need to stop running just because you are diagnosed with cancer; if you want to run and you have the energy then you should. All cancer patients have to cope with fatigue, but running has been shown to reduce fatigue rather than cause it. And regular runners who sadly get the same news as I did will be well equipped to cope with what lies ahead of them, because of the habits and character they have developed through their running.
I did run to all my chemotherapy sessions. My sisters, my sons and my friends ran with me to the final one in September and my memory of that day is of the laughter and conversation on the run, not the treatment that came afterwards. Later that year I had a mastectomy and reconstruction, and then radiotherapy and hormone therapy. Through all of that, running helped me rewrite the story of what was happening to me.