Ladies, we all know that lingerie is the foundation to every fabulous outfit and putting on great feeling, fitting and feminine lingerie can be the right way to start your day!
Our NEW 2017 Lingerie Collection is designed to be both pretty and practical post-surgery, whether you have had a mastectomy, lumpectomy or reconstructive surgery, we have a variety of styles for you to choose from.
Our 2017 collection features styles from post- surgery specialist brands: Nicola Jane, Royce, Anita and Amoena, allowing us to create a lingerie collection suitable for every post-surgery need and of course every outfit! All styles features in the collection are pocketed to hold a prosthesis and feature slightly higher centre fronts to discreetly cover any high scarring, helping you to feel confident and ready for your day ahead!
A taste of our NEW 2017 collection…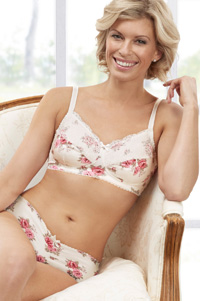 Embrace your feminine side with the Primose, in a beautiful vintage rose print on ivory base. A delicate lace overlay, carefully sits across the top half of the cup to create a delicate lace eyelash effect, enhancing the femininity of this style. Matching briefs with a flattering cut and pretty bow detail complete the look.
New colour...
Cara Padded Lace Elegance Bra (Style 7041) - £28.99
Sizes: 32 - 40 AA D cup, 42 A-C cup
A customer favourite in 2016, introducing the Cara in a NEW refreshing mint colour. The Cara can be your go to bra and a solution to many outfit issues. The padded cups will provide a smooth, even shape, giving you the confidence to wear tighter tops. A pretty lace detail cascades from the side of each cup down to the underband, creating a feminine scalloped effect.




You asked for more styles in a larger cup size, we listened… introducing the stunning Charlotte bra by Royce, available up to a K cup size. Supportive and suitable for a larger cup, doesn't have to mean bulky and boring! This style not only provides you with firm support but also features a 3-section cup design giving you the uplift you require without the need for an underwire. A simple mesh neckline featuring a dainty polka dot pattern adds a subtle sheer effect without compromising on the coverage.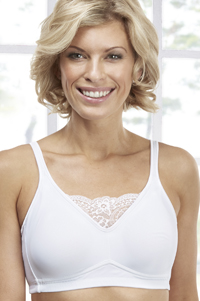 Everyday Essential...
Beth Non-Padded Camisole Bra (Style 7055) - £25.99
Sizes: 32 - 40 AA-D cup, 42 A-D cup
An addition to our core collection, the Beth Camisole is set to be a customer favourite. Adapted from the popular Beth Non-Padded T-Shirt Bra, the Beth Camisole is designed to meet and exceed all the necessary style features required post-surgery. This style features the deepest and softest sides in the collection, ideal if you have scarring under the arm. The addition of the pretty camisole lace is designed to increase the coverage that the Beth currently offers, therefore if you have a slight hollow chest or high scarring this is the style for you! A seamfree, smooth cup is practically invisible under all clothing, a perfect bra for any outfit.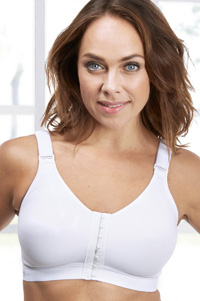 Post-surgery...
Serena Unpocketed, Front Fastening Bra (Style 5523)

-

£40.00
32 - 44 A, B, C cup 32 - 42 D, E cup
Introducing the Serena, a completely new non-padded, seamfree style by post-surgery specialists Anita. Unpocketed, the Serena bra is a perfect choice if you are looking for a supportive bra during your recovery after reconstructive surgery. Every aspect of this bra has your comfort in mind and is aimed to provide you with a bra which you can easily fasten when you have restricted movement post-surgery. Both the easy front fastening hook and eye feature and front adjustable straps with easy Velcro closure allows you to fasten and adjust the bra without having to reach behind.
Intrigued to see the rest of the 2017 post-surgery lingerie collection? Have a browse through our
entire NEW range
(including a few web exclusives) for yourself!