What can I expect when I come for a fitting?
Anyone coming for a fitting will have the opportunity to discuss requirements and we will try to find the perfect match for you. Usually I look at how your current bra fits and take into consideration any of the points you have raised about the fit and your lifestyle. During the fitting I will confirm a size fit for you, but please remember this is just a number and only the start of finding a good fitting bra. As with all clothing there are variances in bras from manufacturer to manufacturer and style to style. With this in mind I am able to advise which style might be most suitable and I can assist in choosing the best products. These items will then be sent to your home address for you to try on. Our free returns policy allows you to try the items in the comfort of your own home and if it's not quite right you can return it to us, free of charge. I am always happy to answer any questions either before booking an appointment or following an appointment, so please don't hesitate to contact me for help at any point.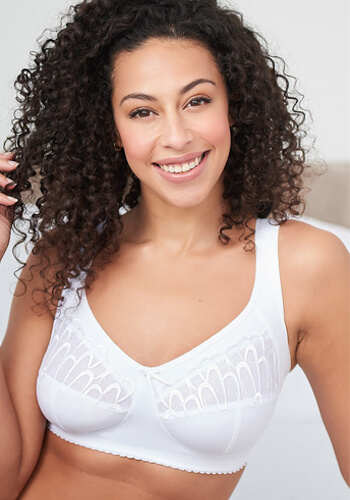 What is your favourite bra from the Nicola Jane collection and why?
My favourite bra is the new
Isabella (9010)
as it is designed for ultimate comfort and control. It has excellent cup separation, pockets and a deep band but still looks pretty and has wider straps than normal. I find ladies love the Isabella for its comfort and its looks.
A second favourite bra would be the
Florence (7046)
this fits perfectly especially for the more petite ladies and the integral lace makes the bra shimmer and is beautiful in any of the colour options.
What is your favourite piece from the 2019 swimwear collection?
I love the colours of the Malawi collection and also the cute new Bahamas V-Neck Swimdress. My favourite colour is blue and the
Lindos collection just reminds me of the gorgeous colours of Greece, so this comes a very close second, but my favourite of all has to be the pretty Palm Beach print and the Tankini option. I love this colour combination and think the tankini is great for its practicalities: wet bottoms can easily be changed, even on a beach, whilst the top half (which is where the difficulties lie) can be worn as a regular top with shorts and can be changed when you are back in the comfort of your private room.
Do you have any styling tips for ladies that are fighting breast cancer?
One of my tips to overcome a low or gaping neckline is to consider a camisole bra, such as the Tilly bra, or the
Carrie Camisole
. Alternatively, the
Poppy Strappy top
with thin straps and the integrated bra is a good choice. All these help make you feel more confident and ensures nothing is on show that is not wanted.
Do you have any general tips that you'd like to share
?
Always revisit the fit of your bra more regularly following surgery, than before. Any weight gain or weight loss makes such a difference to the fit of your bra, and prosthesis. Remember your bra is your foundation garment and a good fitting bra is essential in making your clothing look great.
Contact Jackie on 07919 280144 or by email:
Jackie@nicolajane.com
You can find our Fitting Clinic calendar here:
https://www.nicolajane.com/fitting-services/