Held at the stunning
Underglobe, Shakespeare's Globe Theatre
in London, the awards ceremony were hosted by BBC Radio presenter and TV personality Vanessa Feltz. Maureen and Emily were greeted with a glass of champagne on arrival and were given 5* treatment throughout the evening.
Now in its 8th year the
Stars Underlines Best Shop Awards
are seen as a prestigious awards ceremony within the lingerie industry. Stars is the only award where nominations are suggested by a jury of leading brands in the sector, shops cannot nominate themselves.
This year there were over 500 nominations for the 14 award categories:
1) Best Newcomer
2) Best Concept Shop
3) Best Independent Department Store
4) Best Large Department Store/Chain Store
5) Best Multi-Product E.Tailer
6) Best Specialist E.Tailer
7) Best Personal Touch Shop
8) Best Reference Shop/Store
9) Superstar
10) Editor's Choice
11) Legwear Retailer of the Year
12) Special Care Recognition Award
13) Excellence & Outstanding Achievement
14) Supplier of the Year 2016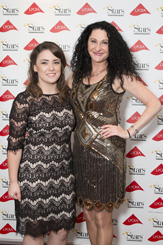 This year our
Nicola Jane London Shop
was nominated for the Concept Shops Award. Nominees for this category were "shops appealing to contemporary lifestyles with an identified target consumer, often designed around a strong theme with an environment and appearance that stimulates the senses".
"I was really delighted that the London shop had gotten through to the finals of these prestigious awards, it was a wonderful event and it was lovely to meet so many retailers from all over the UK and Ireland"
- Maureen, Nicola Jane London Shop Manager (right).
It was a fabulous evening from start to finish, although on the night we did not win, we are so proud to have been named as a finalist. On behalf of Nicola Jane we would like to congratulate the well-deserved winners of this category:
Odyssey Boutique
.
Having previously won the Stars Special Care Recognition Award in 2014 when the award was first created, we were pleased that our friends and Nicola Jane Stockists at
AlmaCare
in Ireland won the award this year. Thoroughly deserved – well done AlmaCare!