I was diagnosed with breast cancer in April 2013, a week after my 44th birthday. It was a funny thing, because I really wasn't surprised. My doctor and I were convinced it was just a cyst in my left breast but after a mammogram the diagnosis was confirmed. Over the years I have come to think of it, in lots of ways, as a blessing. Although some of you, if not all, will probably think I'm nuts for thinking this way about a cancer diagnosis, I'm hoping you'll understand as it has, after all brought me closer to my family, led me to build 'Waysgoneby' and experience lots of new friendships!

The diagnosis was however, a crushing blow. I had three children and a husband and I really wasn't ready to leave any of them! After three operations (I'm a good bleeder!) and radiotherapy, everything seemed to be ok and the following year's mammogram was good. Life went back to a normal pace and nothing really changed, although looking back I think I spent a lot of that year thinking about not dying rather than actually living. My second mammogram however, wasn't so good and I knew right away that the cancer had come back. I also knew that I would have to have a mastectomy as you can't have radiotherapy in the same area twice. I decided then and there not to have reconstruction. I was told I didn't have enough body fat to make my own new breast and would need an implant.

"I am a firm believer that all women who are going through this should make the decision based on what's important to them."

I am a firm believer that all women who are going through this should make the decision based on what's important to them. I didn't want to put myself through a longer than necessary operation, plus I am extremely lucky to have a husband who has been supportive and tells me my scars are lovely! There are also several options for prosthetics and of course beautiful mastectomy bras!
After this second diagnosis I sat down and thought about how short life could potentially be. After my mastectomy I decided to take stock of all the chemicals we were using as a family and I started to make my own cleaning products using traditional ingredients like white vinegar and bicarbonate of soda. This then expanded to skincare and haircare products. I started making them for friends and family and got such good feedback that I decided to take it to the next level and start my own handmade natural skincare line called
Waysgoneby
.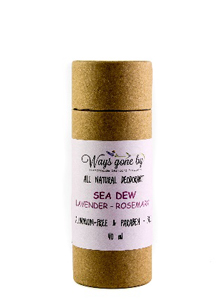 With cancer patients in mind, I wanted to create something that would make them feel and look good, whilst knowing they weren't damaging their bodies, particularly during treatment. I have now formulated a range of products that are suitable for all skin types, even sensitive, in the hope that they make people feel and look amazing without the need for added chemicals. Our products contain organic essential oils, carrier oils, butters and beeswax. I think I am most proud of our
deodorants
as they work really well and the packaging is 100% biodegradable!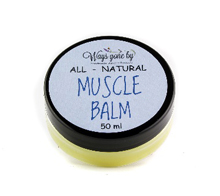 We are also now supplying a local chiropractor with our
Muscle Balm
, which has had some truly amazing feedback! We've recently been told it works really well with fibromyalgia pain, so I'm very pleased about that!
The range is expanding all the time, introducing cleansers, scrubs and body butters. In response to public demand we are also launching a teen range this Spring, which I am so excited about because if we can educate our children to love all things natural then it will benefit generations to come.
In addition to Waysgoneby I also write a
blog
(found on the website) focusing on the 'lighter' side of a cancer diagnosis, which has been a real pleasure to write as I find the process quite cathartic!
In early 2017 I had a second mastectomy because I wanted to be even! I'm so glad I chose to do this as unfortunately there was a small amount of cancer in the breast but I am doing well and looking forward to a long and healthy life, doing what has become my passion, making other people feel good and look great, without having to worry about what they are putting on their skin.
For more information on any of the Waysgoneby products please feel free to contact me:
gemma@waysgoneby.co.uk
or visit
www.waysgoneby.co.uk
.