The Girl Got Glow lifestyle is as much about self-confidence and loving our bodies as it is about food and fitness! Here Abbey, founder of Girl Got Glow gives us a few of her favourite recipes to try...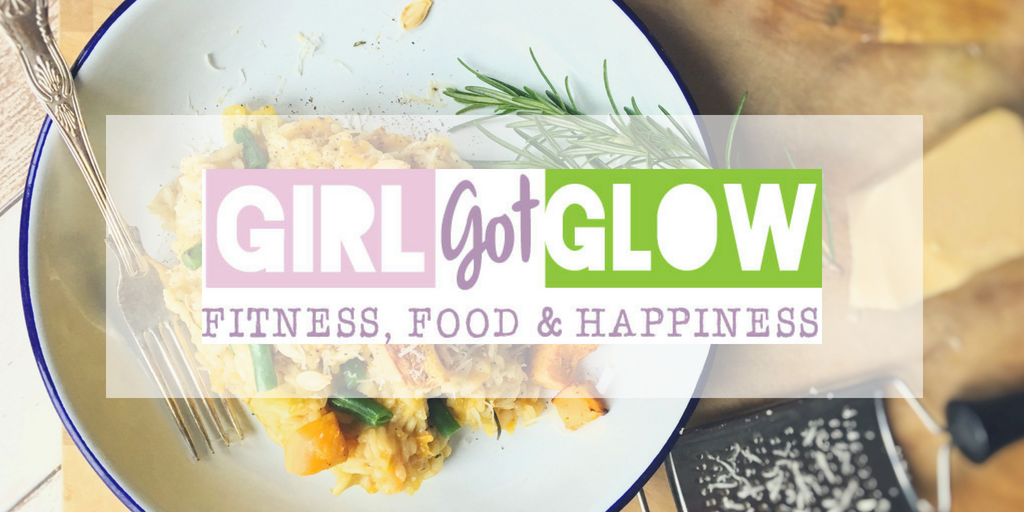 Cashew Nut and Red Cabbage Biryani

2 tbsp coconut oil
1 onion finely sliced
3 garlic cloves finely chopped
1/4 red cabbage finely shredded
2 handfuls of spinach
1 handful of chopped mushrooms
1 x 400g tin of coconut milk 300ml water
1 handful of cashews
250g basmati rice
1 handful of raisins
3 - 4 tbsp of curry paste (l use Pataks Korma Paste)
1 tbsp curry powder (optional)
Chopped coriander and chilli to serve
METHOD
1. Preheat oven to 160ºC
2. Melt the coconut oil in a large oven proof pan and add the garlic, red cabbage, mushrooms and onion
3. Cook on a low heat until the veg has softened (around 10 minutes). Make sure you keep moving it around so the garlic doesn't catch
4. In a separate pot mix the water with the coconut milk and warm gently
5. Add the rice, cashews, spinach and raisins to the veg and then pour over the warm coconut milk mixture
6. Bring the rice up to a boil before popping the lid on and transferring to the oven
7. After 20 minutes take out of the oven and check the rice, if it needs a little longer pop it back in
8. When it's ready, fluff the rice up with a fork, season with salt and pepper and then serve with a sprinkle of chilli and coriander and some lovely mango chutney!
Lentil Spaghetti

Coconut oil
1 small onion finely chopped
2 cloves of garlic crushed
2 tsp oregano (you can use mixed herbs too if you like)
Chopped veg of your choice (I tend to use 1 courgette and a couple of celery sticks and but feel free to experiment!)
300g Dried red lentils
1 tin of chopped tomatoes
1.5-2lt good quality vegetable stock
5 sun dried tomatoes sliced
2 big handfuls of spinach (optional)
Brown Rice Spaghetti
(The dried lentils can be substituted for the canned lentils if you are in a hurry!)

METHOD
1) Heat your oil in a decent sized frying/sauté pan over a medium heat.
2) Add onions and any other veg that you are using. Once they have softened slightly (around 10 mins) add your herbs and garlic and cook for a further 2 minutes
3) Add the lentils and tinned tomatoes - give it a good stir to combine
4) Add 1 litre of stock and stir again
5) Keep stirring every now and then to stop it from sticking and keep topping it up with stock when it starts to become too dry. You're aiming for a bolognese texture remember but the lentils will suck up a lot of the water
6) Once the lentils are cooked through but still have a slight bite (around 40 mins) stir through your sun dried tomatoes and season to taste. Sun dried tomatoes can be quite salty so go easy on the salt
7) At this point, if you're using spinach for an added boost, chuck it in and stir until it wilts slightly
8) Serve with your spaghetti cooked to packet instructions
Chestnut & Roasted Squash Risotto

The squash, chestnut and parmesan combo is such a winner in this recipe. Serve in big bowls with extra vegan parmesan.
Red onion
1 celery stick sliced thinly
3 garlic cloves chopped finely
1tsp thyme or rosemary
500g butternut squash/pumpkin chopped into bite size pieces
Handful of green beans
1lt of good quality vegetable stock
Pack of cooked chestnuts
Vegan parmesan
Parsley chopped
Arborio rice

METHOD
1. Heat a little oil in a large pan and cook the onion over a low heat until soft, add the thyme and garlic and cook for two minutes more
2. Pop the squash on to a baking tray with a drizzle of oil and some seasoning. Cook for around 15 minutes or until it's soft and has some lovely brown bits on!
3. Stir in the rice and then start adding the stock a little at a time, massaging the rice with a wooden spoon (yep, I said massaging!). Wait for the stock to be absorbed before adding more stock. Continue until the rice is tender but still has a slight bite. Add the squash and then take a fork and mash up some of the squash then add the chestnuts.
4. Add a generous handful of grated vegan parmesan and stir. I like to serve this with some lovely green beans but add whatever greens you like.
What to know more about Girl Got Glow? Find out more about Abbey and her healthy lifestyle
here