Etta Comfort Crop Top Black (2031)

€27.36
(€32.83 without VAT exemption)
without VAT exemption
Why you'll love...
Lace meets comfort - this seamless bra is your perfect style for a lazy lounge day or sleep bra! Featuring a pull-on fit, a front lace camisole, and a wide elasticated under-band, this bra offers support and confidence when it is needed most. Combined with the matching briefs, this set is comfortable yet stylish.
Light support
Removable padded, non-wired cups
No strap adjustment
100% cotton pockets to hold a foam/beaded breast form only
96% Polyamide, 4% Elastane
Fitting and Care Guide
Care:
Always follow care instructions on the label. Proper care of your bra will ensure longer wear and support. We always recommend to hand wash bras because the washing machine action can compromise the elasticity and shape of the garment. If you do use the washing machine, use a 30 delicate cycle and use a lingerie washbag where possible for added protection. And remember NEVER put bras in the tumble dryer, air-dry only.
You may also like
/images/products/small/P031black.jpg
/images/products/small/P031black_1.jpg
https://www.nicolajane.com/etta_matching_high_waisted_briefs_p031/
/images/products/small/AO019black.jpg
/images/products/small/AO019black_1.jpg
https://www.nicolajane.com/delilah-soft-bralette-ao019-black/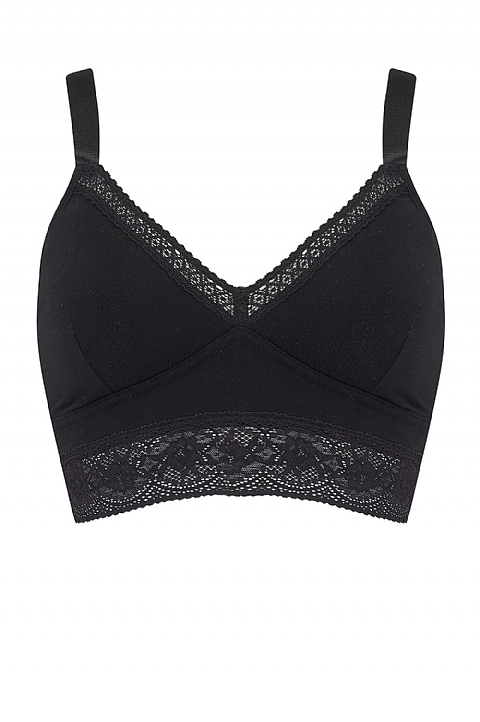 €41.04
(€49.25 without VAT exemption)
Comfy and Lounge
Customer Reviews
Overall product rating

5

/

5
So pleased to find a comfy bra like this. Only drawback is there is no seam to keep you apart and so the prosthesis migrates through the gap as far as it can and is not at the side where it should be. It only needs a line of stitching to stop the prosthesis moving through towards the middle. How about Nicola Jane? I have two and can only wear them on leisure days. Not smart ones.

By

Satisfied customer




08 Oct 2021
Yes, I recommend this product.
I have bought different Nicola Jane bras, I thought they were good but always adjusting them to look right. After all the expense I have at last found a bra that is so comfortable that I forget that I have it on. I have bought 4 and hope they last me a long time.
Customer Service Reply
Wonderful to hear that you have found comfort with the Etta bra. You will be pleased to hear that for 2022 we will be launching this style in Bamboo fabric, available in Blush colour and also Ivory.
Yes, I recommend this product.
I have always loved this type of bra for work, they move with you and are comfortable when working a long shift, I was so happy to find one that I could ware after my mastectomy, I can still be comfortable at work.
Yes, I recommend this product.
To the supplier. We need white and nude in this bra Majority of tops are white. And blush and black. Isn't good under white ??????
And longer line ones that don't rise up
Customer Service Reply
Thank you for your comments and you will be pleased to hear we are launching the Nicola Jane Etta bra in 2022 in Ivory and also a lighter Blush shade.

By

cecilia davies




25 Aug 2021
Yes, I recommend this product.
"
The Most Comfortable Bra I Have Ever Had
"
Since my mastectomy in 2020 I have struggled to find a comfortable bra. Even the ones measured for me at the cancer clinic dug in and I would have to remove it half way through the day. I didn't have reconstruction so I was left with a large flabby bit underarm, and many bras did not conceal or tuck it in. At last I have found the one, so pleased have just ordered 2 more. Wish it came in white, but have ordered more of the blush. I use it with my beanie 'falsie' !! Thank you Nicola Jane.
Yes, I recommend this product.
etta comfort crop top (2031) Review
A lovely comfy bra with no fastening.
I had a stroke 6 months before breast cancer and then mastectomy. Fastening a standard bra with hooks and eyes is difficult for me, so when I found you sold an Amoena crop top bra I was delighted, but sadly you stopped doing it. Now I have found this one and I love it, comfy, a good fit, and easy to put on.
Yes, I recommend this product.
I just love this bra - so soft and so easy to get on and off, no more hooks etc.
Yes, I recommend this product.
I have been waiting for years for a company that made mastectomy bras to make one of these! I have bought crop top bras recently that have removable padding from well known chain and just about manage to squeeze the prosthesis in! These will be so much easier! I have bought two and have one on today and first impressions are very good. More colours please!!
Yes, I recommend this product.
Excellent product. Very happy with my purchase
Yes, I recommend this product.
"
Etta Crop Top Extremely Comfortable
"
This bra is the most comfortable one I've worn since my mastectomy 34 years ago. Bought the blush colour to try, then as it was so pretty and comfortable went on to buy the black, wish there was a white one too! High coverage at the front gives you confidence when wearing lower tops. Thank you to the designer!
Yes, I recommend this product.
This crop top is very comfortable and soft, so have just ordered another one.
Yes, I recommend this product.
"
Finally, A Comfy Way To Wear Prostheses!
"
This is super pretty, and really comfortable. I've tried many proper bras, and I end up just going flat, as hefting two prostheses in a regular fastening bra just gets too uncomfortable to wear all day. This crop top is perfect for all day wear. I bought the pink to try, and I'll be back for the black, just wish it came in white, that would be really useful for the summer!