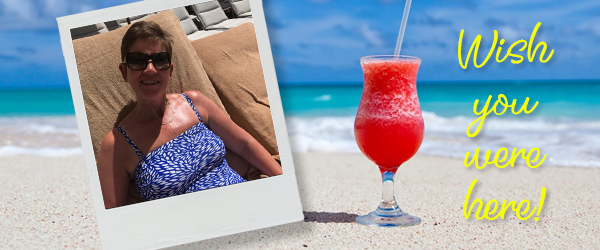 A brief history about me...
In December 2014, aged 46 I was diagnosed with breast cancer. A long treatment plan over 18 months started, chemotherapy, surgery (left mastectomy/lymph nodes removed) radiotherapy and 18 cycles of Herceptin!
My first experience of swimwear in 2015 after my mastectomy was not good. I needed something quickly and with it being June I found that most stores and online outlets had sold out or had very minimal stock. I managed to get a Marks and Spencer's post-surgery swimsuit, which was ok but not very flattering. Before I had breast cancer I lived in bikinis, but being forced through the menopause is detrimental to the waistline!
Skip to 2017
and I had longer to research and look for what was on the market. I signed up for the Nicola Jane catalogue and chose the above swimsuit. The whole process of ordering online was simple and easy.
When I first tried it on my 17 year old daughter's reaction was everything I wanted, she said I looked 'normal' and it was so lovely to hear!
Fast-forward to the above photo of me enjoying the Jamaican sunshine on holiday in August. I loved wearing my swimsuit! It is made from a good quality, soft material and my Knitted Knocker prosthetic worked brilliantly. I loved the detachable strap feature - again it made it 'normal'. It has also washed really well!
I shared the photo to my Facebook group (closed) called FlatFriends. This is a charity for ladies, who like me, have chosen to not have reconstructive surgery. I received many compliments and was even asked if the photo could be used on a fashion blog page!
Featured Swimsuit: Seychelles Bandeau Swimsuit (code S710)
Have you got a story to tell about your Nicola Jane purchase we'd love to hear from you and feature you on the Nicola Jane Blog! Email your story to customerservice@nicolajane.com