Amy Seamless Crop-Top Bra (4310)

£27.00
(£32.40 without VAT exemption)
without VAT exemption
Why you'll love...
Designed for your ultimate comfort, this innovative crop-top style, seamless bra promises to be the most comfortable bra you have ever worn. The high secure neckline means that this style provides enough coverage and support to give you peace of mind that your prosthesis will stay in place.
Light support
Non-padded cups
No strap adjuster
Pockets both sides
72% Polyester, 28% LYCRA®
Fitting and Care Guide
Care:
Always follow care instructions on the label. Proper care of your bra will ensure longer wear and support. We always recommend to hand wash bras because the washing machine action can compromise the elasticity and shape of the garment. If you do use the washing machine, use a 30 delicate cycle and use a lingerie washbag where possible for added protection. And remember NEVER put bras in the tumble dryer, air-dry only.
You may also like
/images/products/small/6160.jpg
/images/products/small/6160.jpg
https://www.nicolajane.com/featherweight-foam-swim-prosthesis-by-nicola-jane-6160/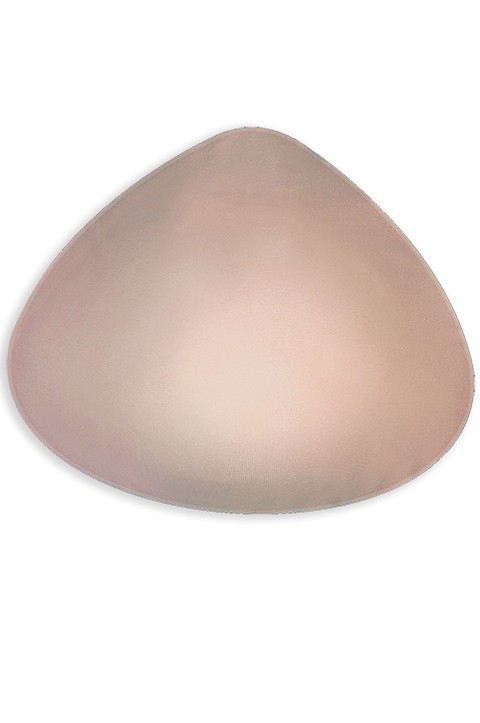 £13.00
(£15.60 without VAT exemption)
/images/products/small/V007Champagne.jpg
/images/products/small/V007Champagne_1.jpg
https://www.nicolajane.com/poppy-95-cotton-fitted-strappy-top-v007-champagne/
£22.00
(£26.40 without VAT exemption)
/images/products/small/1010white.jpg
/images/products/small/1010white_1.jpg
https://www.nicolajane.com/laura-98-cotton-front-fastening-mastectomy-bra-1010/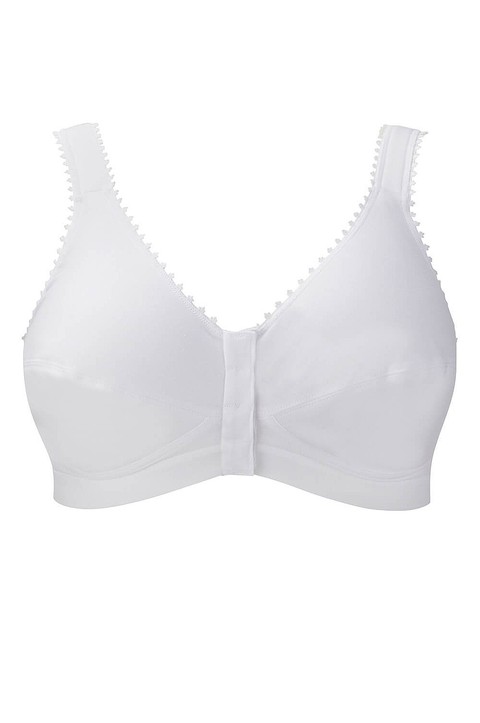 £23.00
(£27.60 without VAT exemption)
T-Shirt Bras
Customer Reviews
Overall product rating

4

/

5

By

Eileen Greenham




09 Jul 2020
Yes, I recommend this product.
It's 13 years since I had my mastectomy, I have not been able to find a comfortable bra, until I discovered this one. Would like a choice of colour. Just about to order another one.

Yes, I recommend this product.
This definitely suits my needs, very comfortable and supportive, some bras tend to gape at the front but this doesn't I will be buying another one. I have tried so many different ones in the last 4 years, nothing as good as this one.
Yes, I recommend this product.
"
Wow! Best Bra For Comfort And Support
"
I've bought many bras from Nicola Jane, and this one is by far the most comfortable bra! I just ordered a second one :)

By

B.M. No recon. Desperate Sam




07 Aug 2019
Was thrilled when I first got this as it's high coverage and not irritating material. However after a few hours the seam under the arm began to irritate me, probably due to sensitivity after lymph node removal 4yrs ago. Maybe they should put the seam on the back? Also the straps have stretched so it now droops and gapes. I need soft fabric Lucy & Connie but with no padding as my 2 prosthesis don't sit right in padded. Bring back my ultimate comfortable wide sided boob sling - Connie before she got pads!
Customer Service Reply
Thank you for your review! We are really sorry to hear that you were not satisfied with the Amy, but we will pass your comment onto our Design team.
Yes, I recommend this product.
I have two of these and aim to buy 7. It is the most comfortable, unobtrusive bra I've ever owned, before and after a mastectomy. I hate bra fastenings (that usually dig in and show through clothing). This is invisible, smooth and supportive. Well done Amoena and Nicola Jane. Please keep stocking them until I have afforded all 7!
"
Dreadful Waste Of Money
"
I was excited to see that Nicola Jane had at last sourced another crop top style bra as I loved the cotton version that disappeared from the catalogue some years ago. However, this is a huge disappointment. The seams are scratchy, the material induces sweat ( and that is a big enough problem without any help) and the cut is such that it rubs at the front of the armpits. If I hadn't cut out the label to get rid of one source of irritation I would be sending it back.
Customer Service Reply
I'm so sorry to hear that the 4310 bra is not suitable, please do send this back and we will refund or exchange this for you. I will pass your comments onto our design team.
Yes, I recommend this product.
"
Most Comfy Bra I'Ve Ever Warn- And Also Supportive
"
This is the most comfortable bra I've ever had. It has no biting elastic so if you have post op sensitivity issues then it's super-kind. It also seems to be nicely supportive, even though it has no thick elastic straps. Oh yes it also looks really cool. was useful for me also because breasts are now a different size, between phases of plastic surgery.