Why a Visit to Nicola Jane is a Must!
We will always do our best to make your visit to the shop an enjoyable experience, whether you are a new or returning customer, we understand the importance of listening and doing our very best to help you.
If you are a new customer in particular and feel worried or nervous about your first fitting, our friendly shop teams will quickly put you at ease. Our aim is for you to leave feeling confident and feeling feminine again.
All Nicola Jane staff have had professional bra fitting training and we know our products inside out. If you are unsure about your size, or tired of being uncomfortable, then a visit to one of our Nicola Jane shops is essential. Our specialist trained bra fitters are always on hand for personal fittings and expert advice about the right products for you.
Our shops carry a wide range of mastectomy wear including bras, swimwear and prostheses and you can even try before you buy, ensuring you always leave wearing the right size for you. If you are looking for a particular product we advise that you call the shop to check availability before your visit.
For more information on our shops, directions and opening hours please click below.
-
London Shop
-
Chichester Shop
-
Leeds Shop
In 1996 we opened up our first Nicola Jane shop in Chichester. A first of its kind offering pre and post operative ladies the opportunity to shop for high quality mastectomy bras and swimwear designed specifically for use after a mastectomy. 16 years later, Nicola Jane Chichester continues to offer the same extensive range of post surgery products, personal fitting service and expert advice that has made it so successful.
2004 saw us open our second shop right in the heart of London. Within just two years, Nicola Jane London were named proud finalists in the esteemed Drapers Award for Lingerie Retailer of the Year and in 2014 we were awarded a 'Special Care' Award at the Underlines 'Stars' Awards, recognising our hardwork and dedication in our specialist area.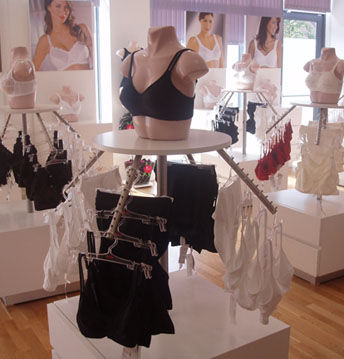 Autumn 2007 saw us take over a specialist post-surgery shop called Oops and Downes in Horsforth, near Leeds. In December 2011 we moved a few doors down and re-opened as Nicola Jane Leeds. Our chic new Nicola Jane boutique provides the widest selection of post mastectomy wear in Leeds. Awarded Underlines best shop award for "Outstanding Performance as a Personal Touch shop", you can be sure that a warm welcome and expert advice always awaits you.