Do you have a lingerie drawer full of old mastectomy bras which you no longer wear? Have you recently changed size or do you now have a new favourite style? Have you recently replaced your prosthesis but your old one is still in good condition?
If the answer is yes then you have the chance to help a woman in need…
Just like you, at
Nicola Jane
we don't like to see a good mastectomy bra or prosthesis go to waste. We often have many ladies call us to see if there is anything we can do with an old mastectomy bra or prosthesis and the answer is yes!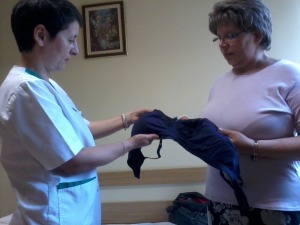 We are pleased to have the opportunity to support
Hospices of Hope
, a leading palliative care charity in South Eastern Europe. After a breast cancer diagnosis, in the U.K many ladies have the opportunity to receive positive treatment and aftercare on the NHS, however unfortunately this is not always the case in some developing countries like Romania, Serbia and Moldova. Many patients do not receive the same aftercare and quite often women struggle financially to afford a specialist mastectomy bra or breast prosthesis. However this is where Hospices of Hope help and provide an amazing service to so many ladies in need, they offer free consultations, mastectomy products and support services to ladies after breast cancer.
So if you would like to make a difference and help someone in need, who may have been through a similar breast cancer journey as you, please feel free to send us your unwanted mastectomy items and we will be more than happy to pass them on for you. Whether you have 1 or 10 unwanted post-surgery items, every item will make a difference.
Please send all items to the following address:
Nicola Jane Mail Order Office
Southern Gate
Terminus Road
Chichester
West Sussex
PO19 8SE
Donations so far…
So far we have donated £3000 worth of mastectomy products to Hospices of Hope. This not only includes donations from Nicola Jane customers but also from ourselves, we often send many end-of-line products to Hospices of Hope, as no matter where you are from it is still our aim to help restore confidence and femininity after breast cancer.
"Your very generous donations have been wonderful to accept and I know they will be wonderful for our patients to receive."- Barbara Merron

"Nicola Jane donations are very much appreciated, our patients are very grateful for them. It does make a huge difference to them and I hope their letters are encouraging to you" – Doctor from Hospice Casa Sperantei in Brasov, Romania.

"At the beginning I was desperate and I tried to find a place where I could get breast prosthesis. I did find an appropriate place, but the price was too high for me and again I found myself in the grasp of despair as my low income made it impossible to purchase even a bra, not to mention of breast prosthesis. Finally I heard about Hospice Casa Sperantei, I contacted the Team and asked them for help in this matter. Thanks to their generosity I now have my breast prosthesis and a special bra for it. I am pleased and happy that I can leave the house without people noticing that I have had a mastectomy," – Cristina

"It was hard for me to think ahead and see myself leaving the house, improvising in the attempt to hide the obvious look after my mastectomy. It felt like everyone was looking at me and could see that I had no breast. The support came from Hospice Casa Sperantei in Brasov, they offered me assistance at all levels: morally and material. The special bra and breast prostheses they provided me with, helped me regain confidence in my womanhood. I would like to express my gratitude and thank all those who helped me to overcome my fears after my mastectomy."